Tired of going to the same beaches, parks and entertainment centres and exercising at your local gym? Bored of the usual touristy outings? We've come up with 20 great things to do in Cape Town just for you!
Have a Refreshing Swim at Silvermine
Fill up those picnic baskets and grab your costume; if you've planned a day at Silvermine Nature Reserve, you are in for a treat. The reserve offers some of the best walks in Table Mountain National Park but if you would prefer to lounge on a lilo in the middle of the reservoir, that's ok too! Try and arrive early if you can, as the shady spots fill up quickly and you may end up having to park far away from the main parking lot. Dogs are also welcome at one spot on the edge of the reservoir but require a My Activity Permit. Entrance to Silvermine costs R40 for adults, R20 for children and is free for WILD Card holders.
Go Rock Climbing at CityROCK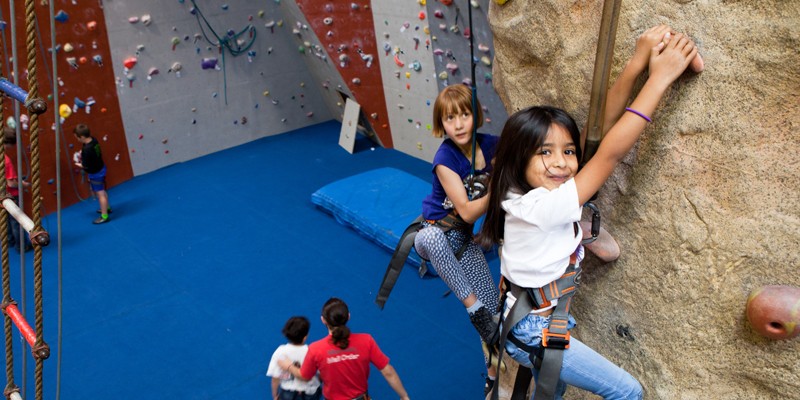 If you're bored of running on the treadmill at your local gym, but need some exercise to be able to squeeze into your favourite jeans, we have just the place for you. CityROCK in Anson Street, Observatory offers indoor climbing facilities which will challenge you both physically and mentally. CityROCK caters for beginners, advanced climbers and everyone in-between. They also offer children's parties and corporate events and a coffee shop with free wifi is an added bonus.
The Labia Theatre in Orange Street, Gardens, is the oldest independent art-repertory cinema in South Africa. Unlike a normal movie theatre, the Labia offers full bar facilities so you can enjoy your slush puppy cocktail whilst watching. Movie tickets cost R45 and a Movie Meal Special Ticket costs between R90 and R110.
Learn How to Surf at Muizenberg
If you're a fan of the movie, Blue Crush, you'll be pleased to know that you can learn to surf at sunny Muizenberg Beach. The gentle sloping sand and consistent waves make it the perfect spot for newbies to learn the basics whilst picking up a few bits of surf slang. Gary's Surf School is the eldest surf school in the country and is well known by locals and internationals alike. The school caters for children and adults as well as beginners and the more advanced. Don't forget your sunblock!
Swim at the Longstreet Baths
While the Longstreet Baths have been in Cape Town city centre for many years, many locals don't even know that they exist. Visitors to the Long Street Baths can make use of the main 25m pool, a 7m children's pool, Turkish baths and hot baths / showers. The baths are open daily from 07:00 – 19:00 and daily entrance fees are R22 for adults, R11 for children and free for pensioners. There are also lifeguards on duty during peak season.
Enjoy lunch with your toes in the sand at Die Strandloper in Langebaan, West Coast. With spectacular views of Langebaan lagoon, this open air, casual restaurant specialises in seafood cooked over open braais right on the beach. Think black mussels, fish curry, snoek with sweet or steamed potato and waterblommertjie bredie. Guests can enjoy their meals whilst listening to the sounds of acoustic guitar.
Situated in the heart of the V&A Waterfront in Cape Town, this museum features more than 60 audio visual displays dedicated to showing visitors the history of South African rugby. With plenty of memorabilia throughout the museum as well as a Springbok shop, true rugby fans will be in their element.  The museum is great fun for the whole family as there are games for children and adults that allow you to test your kicking, passing, fitness and reaction skills in the interactive 'Springbok Trials' games zone.
The Cape Point Vineyards Restaurant is situated on a hill in Noordhoek and boasts 360 degree views of mountains, fynbos, vineyards, and glorious sunsets over the Atlantic ocean. Enjoy two burgers for R100 on a Tuesday night, order a romantic picnic basket for two or visit the Community Market with friends on a Thursday evening.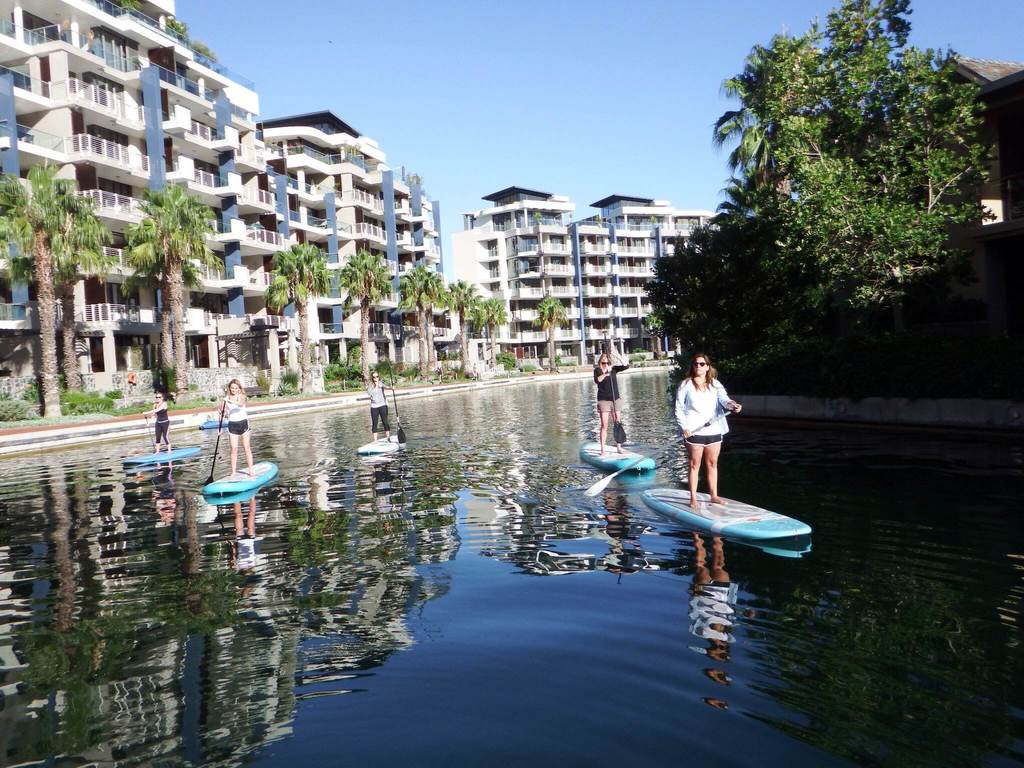 Ever wondered what SUP stands for? We weren't sure either! SUP is short for Stand Up Paddle and is the latest craze to hit Cape Town. We suggest visiting the SUP Cape Town clubhouse on the canal next to the V & A Waterfront. They rent out boards (starting at R100) for your own private use on the canal and they also offer a short lesson. If you want special treatment, you can pay for a guided tour around the canals.
Work on your Detective Skills at Hint Hunt in Woodstock
If 'The Cube' and 'Minute to Win it' are your favourite tv shows, you will love Hint Hunt. Based in Woodstock, this live escape game is played in groups of 3 – 5 people. You get 60 minutes to figure out a range of puzzles in a teeny tiny room with the ultimate goal being "getting out of the tiny room in time". Hint Hunt is great for an afternoon with friends or a team building session.
The Galileo Open Air Cinema is a magical experience reminiscent of old school movie drive-ins. Guests can snuggle under blankets with friends or loved ones while they watch their favourite movies on giant cinema screens under the stars. Galileo has a variety of spectacular venues – Hillcrest Quarry, Kirstenbosch Gardens, V & A Waterfront, Cape Winelands and Nooitgedacht. Every event starts at 6pm and mouth-watering artisanal fare is on sale to keep those tummies happy.
For a great day out, jump aboard a Steam Train with Atlantic Rails. They offer day trips to Stellenbosch, Vredenheim or Spier every few weeks starting at R200 for children and R300 for adults. Grab lunch at Spier Hotel and wander around Stellenbosch before jumping back on the train and having a quick catnap on your way home.
Strawberry picking at Polkadraai Farm is the perfect outing to keep little ones occupied. Families can visit the farm for strawberry picking between September and January. Each 'picker' purchases a bucket which they are allowed to fill and take home with them. Buckets come in different sizes to suit the 'picker'; the Junior Picker is R35, The Harvester is R45, The Professional is R140 and The Ultimate Picker is R190. The farm also offers tractor rides, pony rides, mini golf, face painting, a playground and a food court.
Feel an Adrenaline Rush at Cool Runnings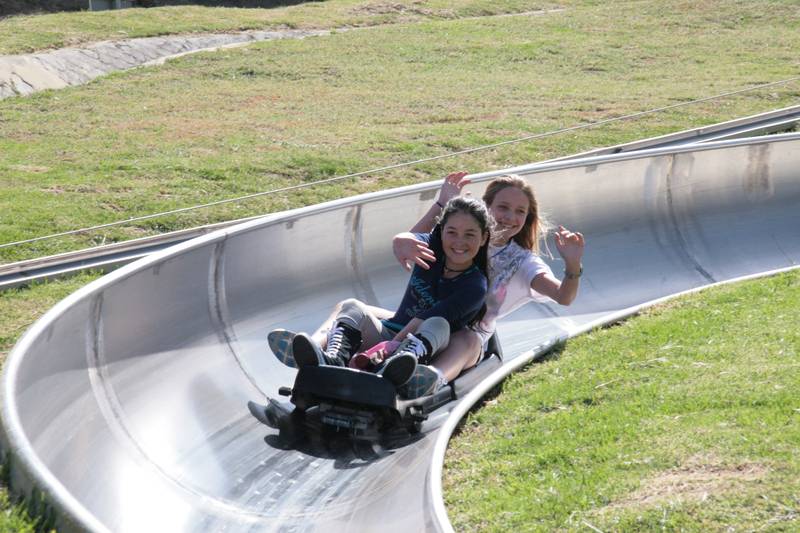 Cool Runnings in Tygervalley is the only Toboggan Track in Africa and runs throughout the Summer. The track is made of stainless steel and a sled can fit one or two people. Once seated, hooks attach onto the sled and draw it up a steep slope to the top of the hill where it is released. The sled then rushes down a curving track with 17 corners, S-bends and a tunnel. The sled speed can be controlled with levers and adrenaline junkies can reach a max speed of 40km per hour! Rides start from R40.
Clay Cafe in Hout Bay is an ideal outing for a rainy day but it's also a pretty great option when the sun is shining. Set at the end of a dusty road, in what was once an old farmhouse, is the Clay Cafe. Visitors to the cafe can select any item to paint and then spend hours doodling their favourite designs on their pottery piece. A range of brushes, sponges and paints are available so you can be sure that no two pieces will look the same. Being creative can build up an appetite but the cafe has this covered, with a selection of toasted sandwiches and baked goods (the chocolate brownies are a must try!). The Clay Cafe can also help with kitchen teas, birthdays and corporate events.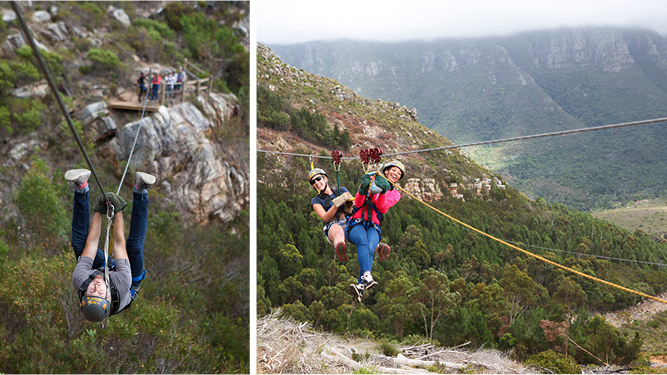 Silvermist Wine Estate is home to one of the longest aerial cable courses in Africa. Adventure seekers will be pleased to know that Cape Town Zipline Tours is now operating at Constantia Nek, a mere 20 minutes from Cape Town city centre. The zipline is 2.3kms in total with its highest point being 155m above ground – not for the faint-hearted. Its location means that zipliners are in for fantastic views of Table Mountain, the back of the Twelve Apostles and the Constantia Nek Valley. You can even spot a glimpse of the ocean!
Blue Rock Resort in Somerset West is a recreational spot with naturally clean and clear water. The lake is 65m deep thus making it the perfect place for scuba diving training, free-style diving, kite surfers, wakeboarders and other water enthusiasts. The lake can reach temperatures of 26 degrees in the summer and offers Cable Waterskiing, Paintball, a Fufi Slide, Picnic Spots, Floating Mats, a Playground and four different Swimming Areas which makes it a great outing for the whole family.

For magnificent views of the Stellenbosch Mountain Range as well as Table Mountain, book a 2 hour Segway Tour at Spier Wine Farm. For just R450, you will be guided through the farm to the vineyards whilst learning all about Spier's biodynamic farming techniques. The tour includes a visit to the Protea Garden and the natural water treatment plant and ends off with a complementary wine tasting.
Take a Twirl on the Outdoor Ice Rink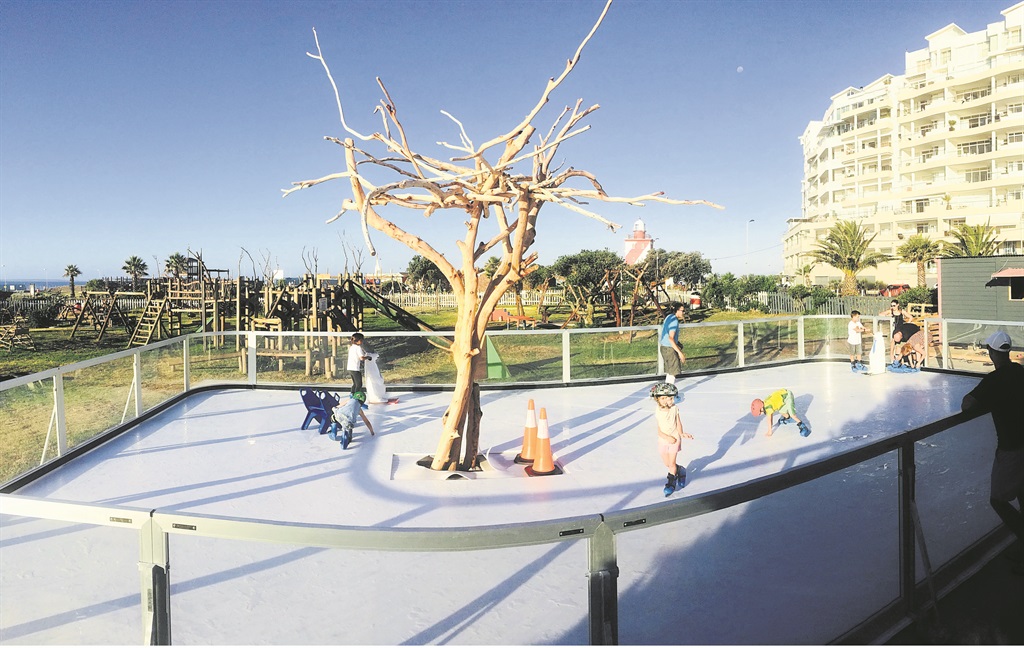 Locals in Cape Town central will know all about the Blue Train Adventure Park in Mouille Point but for those who haven't heard of it and have children, it's definitely worth a visit. A recent addition to the park is the outdoor ice-skating rink. Only children between the ages of 3 and 12 are welcome on the rink (with adult supervision) which means the ice skating experience is all about fun. 30mins on the rink costs R30 and 1 hour costs R50. 
Oudekraal lies on the Atlantic Seaboard between Llandudno and Camps Bay. There are about 40 braai sites in protected coves along the sandy beaches so you will generally get a good spot but we suggest going early on weekends and public holidays in Summer. Entrance to Oudekraal is R20 for adults, R10 for children under 12 and free for Wild Card holders. Don't forget to pack a braai grid!
*Prices are correct at time of publication.