Babysitting plans fall through? Looking for something to do with the whole family this New Year's Eve? What a better way to celebrate this joyous evening than with the people you love! We have listed our 7 family friendly New Year's Eve Ideas so you can include your whole family bringing in the New Year!
1. Beach Fireworks – Various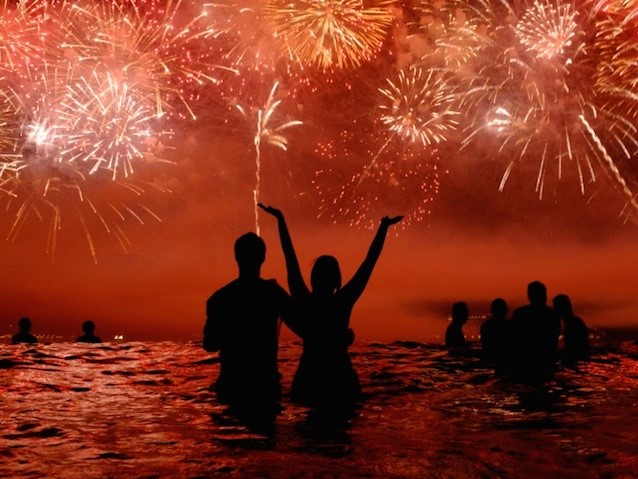 Many cities in South Africa join in the tradition of fireworks launching as the clock strikes midnight, it's the perfect way to start off the New Year with a festive display. It keeps the kids entertained and creates a beautiful atmosphere of fun and excitement. Find out with your city where the best spots to view the fireworks are.
2. Restaurant Dinner – Various
Many restaurants throughout South Africa are offering amazing specials and events to celebrate the New Year, some of them being kid friendly and offer entertainment as well, click here  to view our list of restaurants with New Year Celebrations all over South Africa.
3. Kirstenbosch Gardens Concert- Cape Town
Pack a picnic and bring your family along to Kirstenbosch Botanical Gardens to ring in the New Year.  Goldfish and Hot Water will be performing live and help you count down to 2018!
4. Themed Parties at Home
Not keen on leaving the house? Why not throw a themed NYE Party! Everyone loves to dress up and the kids will love all the fun and excitement around it, so take out those braais and order that champagne and bring in the New Year with your friends and family.
5. Cinderella on Ice – Johannesburg
Performed on a specially-created stage, frozen at minus 15 degrees Celsius, Cinderella on Ice boasts stunning special effects including fire and rain, flying, magnificent projected scenery depicting a Siberian town square and a black and silver art deco theatre, and glorious costumes from Albina Gabueva, head designer at Moscow`s famed Stanislavsky Theatre. The show will take place at 2pm on New Year 's Eve in the Teatro at Montecasino, so get your tickets before it's too late!
6. NYE Cruise with MSC
Picture credit: MSC
What if you could enjoy all your favourite festive traditions, while relaxing and discovering fascinating new places at the same time? With MSC Cruises, you can! They have a New Year cruise on offer, suitable for the whole family that will not only take you away from the hustle and bustle of the city but let you experience a magical New Year on Sea. Enjoy a party and variety shows with guest artists and have fun with themed activities for both adults and children.
7. Camping
Picture credit: CampSA
If you are looking to escape the crowds this New Year's Eve, but don't want to stay at home, what better way to celebrate than peacefully in the wilderness surrounded by your loved ones reminiscing about the past year. Click here to view camping spots around South Africa to plan your getaway.
This sums up our list of 7 New Years Eve Ideas for the whole family to enjoy.