Spluttering and coughing, tears streaming, I emerged from the little kitchen hokkie that doubled as gossip central. I do not speak isiXhosa and yet the raised eye-brows, the 'tuts', laden with disapproval and the raucous laughter conveyed the nature of the discussions which unfolded within that small smoky dwelling.
A debrief with my translator (aka childhood nanny) some hours later, confirmed what I had suspected. Topics covered in that dark, smoky room included the drunken debauchery of a neighbour's son, the strike at freedom by a herd of cows into an adjacent field and the birth of a child to girl not much older than me (18 at the time). It appeared that beneath it all, we weren't that different after all.
Visiting the Transkei as a young girl just out of high school was my first ever experience of culture shock. While the rolling green hills were beautiful and the simple, subsistence-farming lifestyle seemed romantic from the outside, the language barrier, a lack of running water and a menu consisting of meaty stew and pap really shook up my protected, middle-class, vegetarian sensibilities.
Furthermore, everywhere I went I stuck out like a sore thumb against the hills, the only English Rose for miles, mingling silently (but smilingly) with the dark-skinned locals. Those few days I moved about from hut to hut, dragged by some well-meaning teenager to be shown off to their friends and family. Behind me I was trailed by swarms of laughing children, equally amused and intrigued by the mlungu in their midst. It was overwhelming…and intriguing for me too.
Staying in Qumbu, a small village in the old Transkei region of the Eastern Cape, gives you a different view of traditional Xhosa life to the one that is presented along the tourism-ready Wild Coast. Driving along the dirt track to Ntombekhaya's (aka Italia, my childhood nanny) homestead, she points out a school. A solitary, ramshackle building perched on a hill top, she tells me that small children walk the hills from 'all over' to get there and cram into over-crowded classrooms with no toilet facilities when they do [get there]. We are travelling with one of those small children – Dumisa. He is gregarious and funny and I can't help thinking that he deserves better.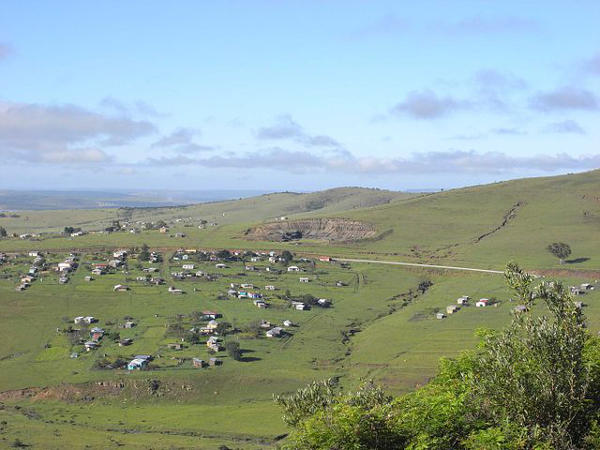 Throughout my tours of the hills, I am introduced to countless young mothers, fathers nowhere to be seen, and am told stories about how these idyllic hills become sinister at night. Poverty is very real in this part of the world, as are its symptoms. Having said that though, there is no denying that there is also magic in those hills – even me as a shell-shocked teenager recognised that.
Somewhat surprisingly, as in many poverty-stricken regions, smiles await you around every corner and in some cases grand welcoming ceremonies too. To my great mortification, and retrospectively, amusement, a passing party of elders caught wind of our presence in the village. A short detour later and the umqombothi-fueled elders had temporarily forgotten their celebration of a wedding engagement and had instead filed into a rondavel to welcome and meet the visitors.
My younger sister and I, obeying instructions, seated ourselves in the centre as the elders, lining the edges of the hut, clapped and sang for our benefit (or maybe it was just theirs?), never taking their eyes off us.
Those few days spent at the homestead of my childhood carer, seeing how her family lives and getting a feel for this place she calls 'home', had all the ingredients of a successful journey in Africa; a beautiful setting, lots of human interactions and for me, a chance to get to know another dimension of someone I love dearly.
 Cultural insights flew thick and fast, between groups of dogs, children and teenagers smacking sticks and singing as they saw the young initiates off for their initiation ceremony (culminating in the circumcision ceremony) and the little sacred outhouse on the homestead which only sangomas (traditional healers) are allowed to enter, I saw and experienced things that up until then I had only heard about, and even more things I hadn't even imagined.
For me, that trip into the Transkei brings home the fact that so often we only know half of what we think we do. There is so much to learn and experience and the only way to do that is by shrugging off the protective covers and diving head first into the world. And with that, I wish you happy swimming friends!
Don't forget to like our Facebook page and follow us on twitter @SleepingOUT_SA.