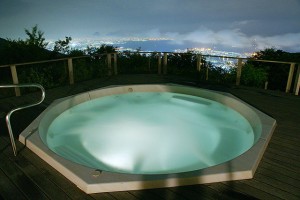 When June arrives in South Africa, many of us are in need of a mid-year break and a comfy place to spend the winter holidays. Unlike in summer, outdoorsy and beach destinations are often deemed cold and unpleasant in winter. Instead we opt for cosy hideaways or as you should do, plan trips to accommodation with Jacuzzi and spa facilities. After all, a Jacuzzi is not a symbol of luxury for nothing.
For all those looking for winter holiday inspiration, we bring you The Jacuzzi!
First though, some Background:
The modern day Jacuzzi is named after the Jacuzzi brothers (pronounced 'ja-kuttsi'), an Italian bunch who relocated from Italy to the USA's West Coast. The 3 brothers started a company which evolved from manufacturing aeroplane propellers to producing agricultural water pumps.
One of the brothers later adapted the pump system for his son, who suffered from rheumatoid arthritis, so that he could receive hydrotherapy in between visits to the hospital. Soon after the company decided to market the product to the general population and as soon as Hollywood twigged, the Jacuzzi was on its way to stardom.
With its popularity amongst the rich and famous, the humble bath tub with warm water jets took on a life of its own to become the symbol of luxury that it is today and birth the modern day spa movement.
On Sleeping-OUT we have a unique search filter which helps you to find accommodation with Jacuzzi facilities. While a Jacuzzi is pretty well defined by its warm water and jet nozzles which massage and sooth muscles, the setting can vary quite broadly.
Here are a few settings in which you could find yourself on your next winter break:
A Jacuzzi with a view.
At Nova Constantia Guesthouse in Cape Town, you can sit in the Jacuzzi with a glass of bubbly or a good wine from the Constantia Wine Route while soaking up the sunshine on crisp winter's day and taking in the view of the valley.
You could substitute this view with the sparkling lights of a city, an ocean view dotted with boats or even a bush scene with antelope grazing in the distance.
A private Jacuzzi in your suite.
If you don't like sharing, a personal Jacuzzi in your room is the answer, like this one at The Residence Boutique Hotel in Johannesburg.
Indoor Jacuzzi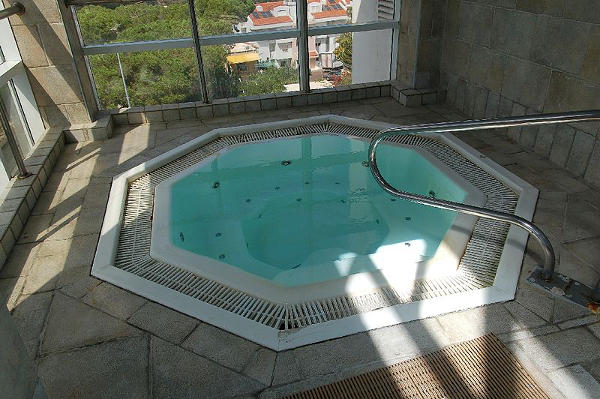 If you want to maximise your Jacuzzi time, especially in a rainy winter location, an indoor Jacuzzi is for you.
Jacuzzi and spa treatment.
Maybe you're not too fussed about having full time access to a Jacuzzi. If that's the case, a Jacuzzi as part of your accommodation's spa facilities will probably suffice. This Jacuzzi at the Pondoro Game Lodge in Limpopo is surrounded by the African bush and makes a nice conclusion to a day of pampering.
So, you've decided that accommodation with Jacuzzi facilities is a must this winter holiday.
Simply use Sleeping-OUT's advanced search filter to find exactly what you need. This post titled How to Use sleeping-OUT's Advanced Search Filter shows you how.
Now, browse accommodation with a Jacuzzi on Sleeping-OUT.