South Africa, hailed for its friendliness, wildlife and wines. These however are but a glimpse of what is on offer, and holidays in South Africa, exploring the back roads and chatting to locals will soon reveal that there is so much more, for example, a rich heritage of world class brandy production.
Like the Afrikaans language and architectural identity of many small towns, South Africa's 330 year history of Brandy distillation is owed to the Dutch settlers in the Cape. The Dutch, who got around in their time came upon the idea of distillation while in France. There they distilled the cognac wines in order to prolong their shelf life for the journey back to the Netherlands and other Dutch colonies around the world – one of which being South Africa. The shipment of brandy in French casks enriched the flavour and lead to the current methods of brandy production.
In terms of international competition, South African brandies fare exceptionally well. Thus your holidays in South Africa should take in not just the Cape Winelands, but the Brandy Routes too!
Route 62
Setting off from Cape Town, head up the N1, leaving Paarl and the winelands behind you as you enter the Huguenot Tunnel. Soon enough you will find yourself in Worcester, where the KWV distillery marks the start of the Route 62 Brandy Route. Driving East towards Robertson you will enter the Breede River Valley, a picturesque region renowned for its fruit production, wine cellars and range of outdoor activities. Within the valley you will come across the delightful town of Robertson, home to the Wacky Wine Festival and the Klipdrift Brandy Distillery.
After leaving Robertson and passing through Montagu, you will soon find yourself on the heart of Route 62, surrounded by semi-arid landscape, getting your first taste of the Klein (Little) Karoo.
The Barrydale Cellar combines wine-making with a brandy distillery and further down the route you'll find the Boplaas distillery in Calitzdorp. Continuing along the route, the skies become bigger and the landscape more captivating – you can even be forgiven for forgetting that brandy is the reason for your mission. You'll pass one more distillery before you reach the end of the route in Oudtshoorn.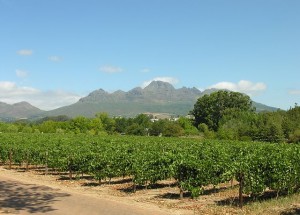 Western Cape Brandy Route
If your holidays in South Africa are pressed for time, this Brandy Route may serve you best as it is closer to Cape Town and set in the heart of the Cape Winelands, incorporating wineries which have an on-site distillery. Iconic Winelands towns on the tour include Paarl, Wellington, Franschhoek and Stellenbosch. If you can only afford a day trip, a visit to this region of sweeping vineyards and looming mountain peaks is well worth it.
As with wine tasting, a trip to a brandy distillery may well include tastings, a tour of the distillery as well as the opportunity to ask someone knowledgeable about the distilling process.