The beautiful town of Stellenbosch, just 45 minutes from Cape Town, is playing host to 'The Stellenbosch Experience', from October right up until the end of December with a line up of events that will have locals and holidaymakers alike in just the right mood for the festive season. This year's itinerary includes live music, food and wine feasts, art exhibitions and Xmas shopping under the stars.
The month of October sees Bodega Restaurant at Dornier Estate hosting its 6th annual Asparagus Festival. Chef Daniel George will be cooking up come amazing asparagus themed dishes, paired of course, with Dornier wine. A new summer menu has also been unveiled to coincide with this festival. Check out Dormier Homestead to stay onsite with the festival just outside your door!
November kicks off with an ode to the arts of Stellenbosch, with the Art – (de)code – (re)phrase exhibition at D-Street Gallery in Dorp Street on 15 November. The showing will feature works by some renowned local artists.
If you feel like something  bit more tranquil and outdoors, Acara will also be hosting an open gardens on 15 and 16 November. You and your family can take in the spectacular scenery and greenery of the popular Acara gardens while enjoying the local cheese and wine on offer.
Get your Xmas shopping done and have fun at the same time (who would have thought it possible?) by making your way to the Slow Market's Christmas Night & Day Market at the Oude Libertas on the 28th, 29th and 30th of November. While shopping for unique crafty gifts from the nearly 140 stalls onsite, you can enjoy wine and craft beer tastings and marvel at the gorgeous Christmas décor.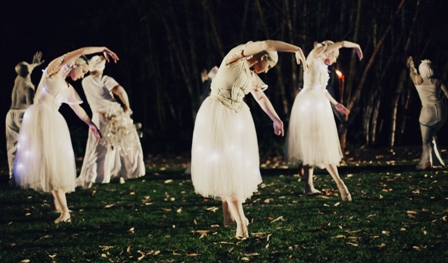 December is when the festive cheer is in full swing, beginning with the Spier Festival of White Lights on 5 December. This literally 'dazzling' event is essentially a performance arts procession which will wind through heritage Cape Dutch monuments and be led by Spier's Angel of Light on stilts. It includes light displays, fire dancers, sculptures, lanterns and artistic performances. The evening ended off with a complimentary glass of wine at the Spier Hotel Restaurant.
The Stellenbosch's annual Festival of Street Lights is another light-filled event in the Oak City, hosted by the Stellenbosch municipality on 7 and 8 December. The ceremony begins with  Stellenbosch's mayor switching on the Christmas lights, and includes a carols by candlelight performance. Pack a picnic with you to make it an all-round great family outing.
Many of Stellie's famed restaurants will  be serving up special Xmas menus for the festival season, showcasing why this popular tourist destination is also celebrated as one of South Africa's food and wine capitals.
So head on down and get the Stellenbosch Experience this festive season!
Book accommodation in Stellenbosch now before it's too late.