Halloween is upon us!
The origins of Halloween are up for debate, some believe it's based on a Gaelic harvest festival that marked the northern hemisphere's change from autumn to winter and when the physical and spiritual worlds aligned. Others believe it be based on the Catholic holiday All Saints' Day, where believers pay homage and collectively pray for the souls of their dearly departed.
Wherever it came from, in it's current form it's just a fun day to dress up in a funny costume, eat too many sweets and scare yourself silly. Though South Africans have not traditionally celebrated Old Hallow's eve with much fanfare, it's slowly starting to catch on because – let's be honest – everyone loves an excuse to dress-up!
Here is a round up of some of the best Halloween events:
Cape Town is abuzz with halloween events this year, starting off with the South African Horror Film Festival at the Labia in Town from 29 October to Friday to 7 November 2014. This event will feature some of the scariest movies ever made, a dress-up competition, a performance by a live instrumental group and live book readings by local horror, fantasy and thriller authors!
Kirstenbosch Gardens will also be hosting an after-dark horror film screening on Halloween evening. 'The Exorcist' will be screened on giant screens at the Kirstenbosch Galileo Open Air Cinema for those who are brave enough. How long can you watch without hiding your eyes?
For something a little different, take a walk on the zombie side at The Cape Town Zombie Walk on Saturday  1 November. Would-be zombies will stagger through the Cape Town CBD from Thibault Square to the Company's Garden in their best living dead get-up.
A bit further out, in Stellenbosch, the annual Dirtopia Halloween Forest Night Run will provide an 'adrenaline pumping' experience of a different kind!  Athletes and fun-runners will smake their way through the forest under the cover of darkness at Muratie Wine Estate. Runners can sign up for either a 10km or 5km trot.  Try not to think about the Blair Witch Project, runners!
Johannesburg is also on the Halloween trail with the cleverly named 'Horrorwood' festival at Brightwater Commons in Randburg. Trick or treating, a house of horror, a performance by Snakebite Jones and Master Mentalist Gilan Gork are all in the excitingly spooky line-up.  The winners of the best dressed competition will win the prestigious 'Toomie' award in different age categories. Kids will be kept suitably entertained with a jumping castle, peddle cars and twisty ladder, the House of Horror and trick or treating in safey around the centre.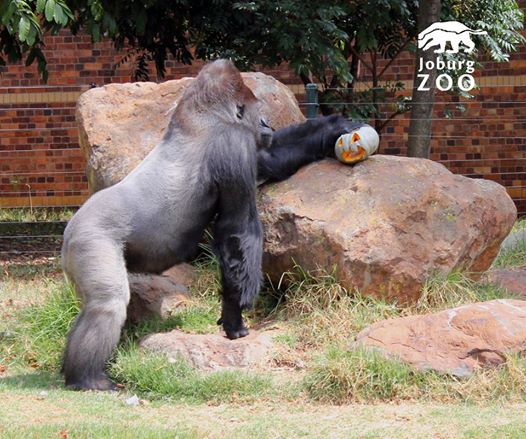 The Johannesburg zoo will be holding a special animal-loving Halloween event on the 1st of November where, in addition to looking at the zoo's animals and regular displays, visitors can enjoy a haunted forest, ghost house, slithering house of reptiles and a best costume competition!
In Durban, the living dead will be taking to the streets with the Zombie Apocalypse Street Party. The event will start off with the Zombie Walk on Durban's beach front, and follow on in Rivertown which will be transformed into a crypt of chaos, with 2 stages, bars, beer gardens and outdoor movie theatre and performances by local bands such as P.H FAT.
Kimberley is offering up a unique Halloween experience with an event at Hoffe Park. Enjoy a game of night paintball, a zombie shooting gallery and a vampire shooting gallery as well as prizes for best dressed, worst dressed and best shot!
Happy Halloween!