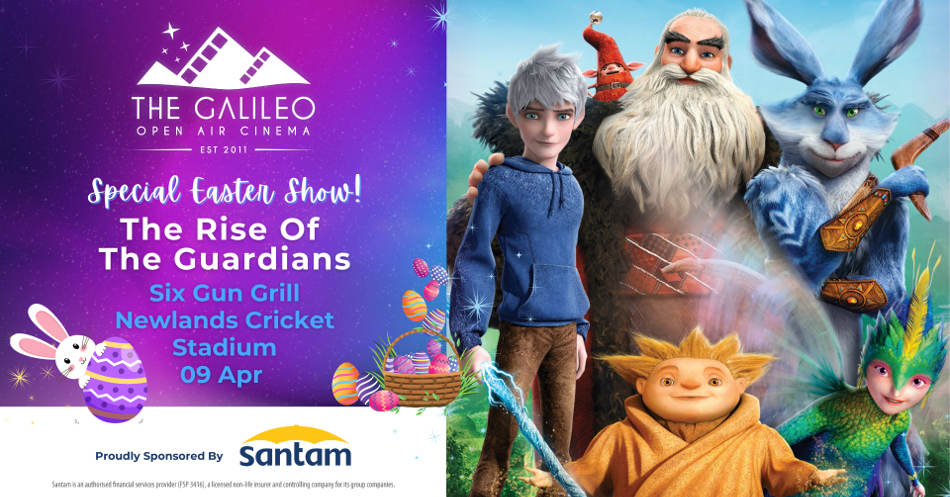 Something exciting is hopping on over to Six Gun Grill Newlands Cricket Stadium this Easter! The Galileo Open Air Cinema, proudly sponsored by Santam, presents an exciting Easter-inspired open-air movie experience for families and friends to enjoy on Sunday, 9 April 2023, which also sees the last month of this seasons' summer screenings.
Moviegoers have the opportunity to sit on the lawns of the Six Gun Grill Newlands Cricket Stadium- one of the world's most iconic cricket grounds, with Table Mountain and Devils Peak offering the perfect backdrop to your Easter Sunday plans. A special, themed screening of the animated fantasy action-adventure film – 'The Rise Of The Guardians' will be displayed on their massive LED screen.
Perfectly suited to be family-friendly, the little ones will delight in this fantasy tale of an epic adventure which tells the story of a group of heroes – Santa Claus, the Tooth Fairy, the Easter Bunny, and the Sandman. These immortal Guardians must join forces to protect the hopes, beliefs, and imagination of children all over the world.
To make the day even sweeter, The Galileo has pulled out all the stops for the ultimate outdoor Easter plans. Family fun in the form of food stalls, colouring in competitions for all ages, face painting, games and even a special guest appearance from the Easter bunny, with photo opportunities available, all of which set the scene for the movie magic to follow.
Tickets include a chocolate Easter egg, backrest, blanket, and entertainment. Be there from 4pm onwards to make sure you soak in the unrivaled surroundings before the movie begins at 5:30pm.
When booking your tickets, look out for the option to donate to 'StreetSmart' on all movie screenings and for this special Easter show, The Galileo will proudly match your R5 donation to aid in the great work done by this organisation.
Cuddle up close and create family memories sure to last a lifetime at The Galileo Open Air Cinema!
Movie Date: Sunday, 9 April 2023
Movie: 'The Rise Of The Guardians'
Movie Venue: Six Gun Grill Newlands Cricket Stadium, Campground Road, Newlands, Cape Town. Doors open at 4pm; movie screening starts at 5:30pm, and movie ends at around 7pm.
Ticket price: R175 per person
Book here: https://thegalileo.co.za/movie/the-rise-of-the-guardians-special-easter-show/
*No alcohol may be brought into the venue