'Just where are we headed to now? You do know that we passed the turn-off a good couple of kilometres back?' These are the words that are inevitably spoken en route to Darling when I'm the designated driver. And they're usually uttered a few kilometres outside of Malmesbury. It seems that despite (or perhaps because of?) always getting lost on this particular route, it is a firm favourite of mine.
The next step in the chain of events is deciding not to double back and instead hope that another road with a sign post to Darling appears. It does. After an hour's drive up the N7 from Cape Town, passing increasingly yellow fields, we turned off onto the R45 (and not the R315 as originally planned) and headed towards the coast on a somewhat bendy road which takes in the expansive farmlands and not much else. This is the scenic route, and quite frankly, what life is all about. I know why I always miss the first turn-off.
After a short picnic break in the middle of nowhere, we rolled into the dear little West Coast town of Darling via its bum end. This worked out well for us as within minutes of arriving in Darling East (a poor suburb in Darling) we spotted what we came here to see.


In this part of town dry, dusty streets, swarming with children and animals are transformed by a graffiti project called 'Darling made me do it.' Each front wall of each government-issued house on Akkerboom Laan is painted with a mural, which in turn forms part of a larger split-piece project. It is quite a sight to behold.
The split-piece idea was conceptualised by South African graffiti artist Falko and the 'Darling made me do it' project is not only a form of artistic expression but also serves to brighten up the neighbourhood, inject a little extra tourism into the town and encourage interaction between locals and visitors. This is especially true where children are concerned.


After our tour of Akkerboom Laan, we headed into Darling itself and took a turn by Evita se Perron's museum. The museum is not only a reminder of South Africa's apartheid history, but also an ode to Peter Dirk Uys's alter-ego Evita and the role of comedy in a politically charged climate. The exhibits were peppered with tongue-in-cheek commentary and a detour into the garden took you to 'Boerassic Park' – a humorously pathetic collection of wire and metal animals.


Our final stop was Cloof Wine Estate, for a spot of wine-tasting and relaxing on the lawn. The outcome of which was the purchase of numerous bottles of wine and a photo shoot of people dancing on the edge of the infinity pool.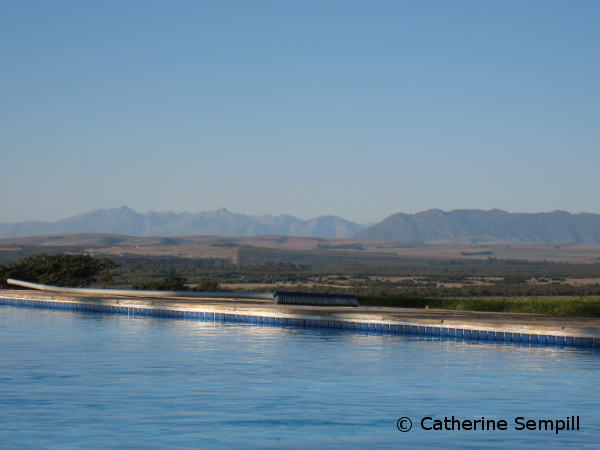 When all was said and done, we piled back into the car and embarked upon the [much shorter] journey home, agreeing that it was a day well-spent.
Darling is a small town about an hour from Cape Town, which prides itself on being the heart of the West Coast. It lies inland between the Atlantic Ocean and the N7 high-way. There are two main options for getting there, one being a coastal drive up the R27 and then taking a right onto the R315 to Darling, while the other option is following the N7 through the farmlands and turning left onto the R315, approaching Darling from the opposite direction.
Once there you can amble around town, check out the 'Darling made me do It' project, see Evita Perron (Comedienne Peter Dirk Uys's alter-ego) live in action, sample the local wines and picnic among the wild flowers in season.
If you're considering a Cape Town holiday, factor in a drive to Darling. It makes for a very rewarding day trip on a variety of levels, especially if you're a sucker for small towns.