Often described as one of South Africa's most beautiful regions to amble through, the Garden Route is an incandescent treasure with many picturesque sites, photographic opportunities and is home to many ancient forests, rivers, long beach stretches and mountain ranges. To make your trip that much more unforgettable, we suggest you try out these little gems along the way – considered some of the region's best kept secrets.

Gericke's Point


Gericke's Point, which is located in Sedgefield, resembles the shape of a lion's head. What makes this landmark so fascinating and worth a quick visit is that it has South Africa's highest fossilized dunes.
Visitors have to walk roughly 4 km's to reach the landmark – but the trek is certainly worth the effort as Gericke's Point is a vantage point to many oceanic sites. During whale season, which is between the months of May – October, Gericke's Point is a prime spot to view the Southern Right Whales as they come to the shorelines for the calving season.  If you're lucky, you might also have the opportunity to view a shoal of Humpback Dolphins who regularly frequent the area.
Low tide will reveal a myriad of marine life at the rock pools – a definitive highlight for explorers both young and old.
Wild Oats Community Farmer's Market


If you're looking to have an authentic taste of the Garden Route, then look no further than the Sedgefield Wild Oats Community Farmer's Market.
The market, which occurs every Saturday morning come rain or shine, has some of the finest local wares on offer – from home bakes and fresh produce to plant and flowers.
Visitors to the market will enjoy  its thriving community spirit while being able to purchase some quality padkos for the road.
Highgate Ostrich Show Farm
Forget about horses – for the daring and adventurous we suggest a wild ride atop of an ostrich at the Highgate Ostrich Farm in Oudtshoorn!
For the more cautious of folk, there are petting areas where you'll get to hold a baby chick, or allow these flightless birds to feed off the palm of your hand at the feeding area. Alternately, learn all you can learn about the ostrich on an interactive tour, which will get you up close and personal with the animals.
If you're looking to try out the local cuisine, ostrich steaks or ostrich eggs(which can easily feed a party of 20) are available at the Farm's restaurant.
Take home some memorabilia with you at the curio shop, where plain or decorated hollowed-out ostrich eggs are available for purchasing.
Tenikwa Wildlife and Awareness Centre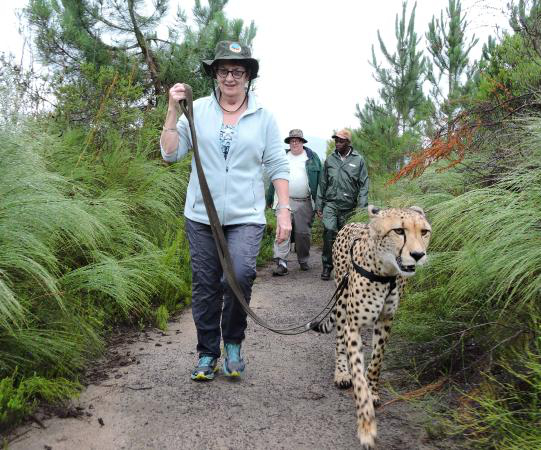 Tenikwa Wildlife, which is located in Plettenberg Bay, provides visitors the experience of walking with cheetahs through the forests of Tsitsikamma, as they get taken on their daily walks. This opportunity allows you to spend quality time with the cheetahs and be provided with information on the endangered animal.
Tenikwa offers a variety of programs catered to different age groups and fitness levels, where visitors will go on an informative tour that not only teaches them about the cheetah but a variety of other endangered cats in South Africa.
Also on show are a wide variety of bird life which includes the Blue Crane, Marabou stork and waterfowls who regularly frequent the area.
Tsitsikamma National Park

It's no secret, Tsitsikamma is a beautiful area, which is fitting considering it is derived from the Khoi word 'place of abundance or sparkling water'. It is an ideal place to stretch your legs and explore its many attractions.
We suggest you visit the Tsitsikamma National Park, a coastal reserve that is home to an indigenous forestry, many specimen of fynbos, deep river gorges and a wide variety of game. Covering an 80km stretch, the park is expansive and snakes along the coastline.
Bungee Jumping Off Bloukrans Bridge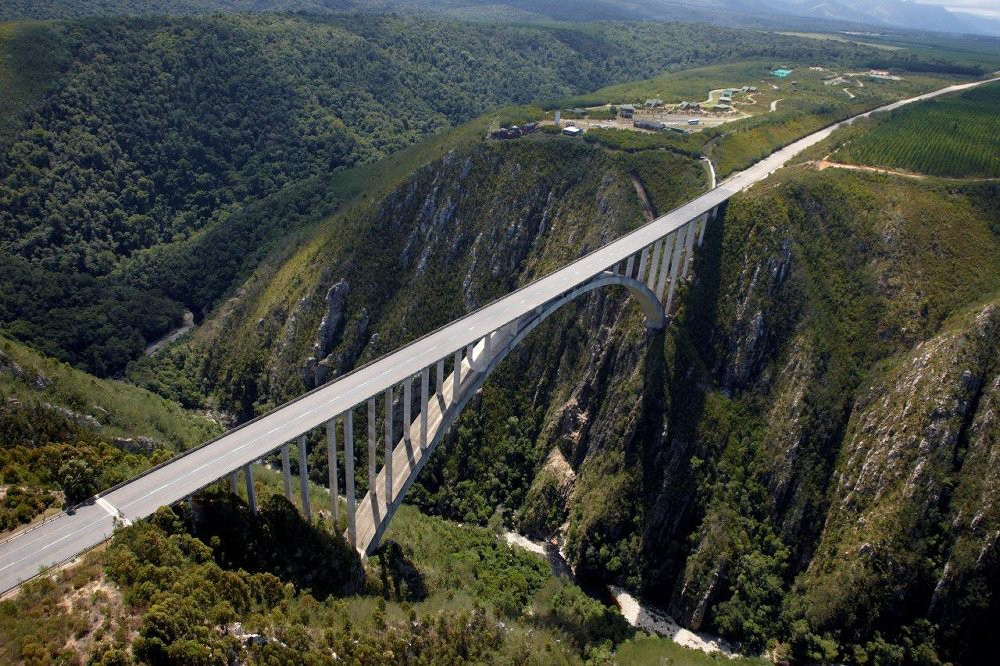 For those of you looking to tick  a dare-devilish activity off your bucket list, here's your chance.
Take a pit stop on your travels at Bloukrans Bridge in Nature's Valley. The structure stands tall at a height of 216 metres overlooking the river, and is the site of the world's highest commercial bungee jumping. Not only will you get the ultimate adrenaline fix, but you'll have the opportunity to view spectacular scenery from great heights.
Visit the Outeniqua Transport Museum
Visit the Outeniqua Transport Museum in George, and feast your eyes on a variety of old steam locomotives.
Once popular modes of transport, these trains have since been grounded. 13 locomotives are currently on display and include Johannesburg's first ever steam train, Emil Kessler together with the mightily fine Royal Train of 1947.