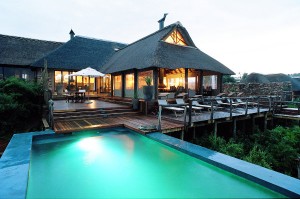 Beautiful scenery, plenty of wild life, gourmet cuisine and the comfiest accommodation you can imagine. This just about sums up this month's featured accommodation. The Pumba Private Game Reserve boasts 5-star luxury in the Eastern Cape's renowned game-viewing region. It is easily accessible from Port Elizabeth and promises an experience which you won't forget in a hurry!

The reserve is home to not one but luxury lodges; Pumba Water Lodge and Msenge Bush Lodge. Pumba Lodge is comprised of 12 stone-walled, thatched cottages which look out across Lake Kariega. Msenge Lodge on the other hand has 11 thatch-roof, glass enclosed chalets which look out across a water hole and a vast flood plain. Between them there is Wi-Fi, a gym, a health and wellness spa and a restaurant serving up gourmet safari-inspired cuisine and excellent South African wines.



Days spent at the Pumba Private Game Reserve involve being pampered at the Soul Spa, dining in a stunning location, relaxing by the pool and heading into the bush on rewarding game drives. The Pumba Private Game Reserve is a Big 5 reserve, home to buffalo, rhino, elephant, leopard and lion as well as over 300 species of birds. The game drives are conducted in 4×4 vehicles specially adapted for game viewing by knowledgeable and passionate game rangers who will ensure you get great sightings.

At Pumba Private Game Reserve, a huge emphasis is put on guest satisfaction, but this is not at the cost of the environment. Conservation is at the top of their priority list and the reserve is involved in numerous conservation and environmental initiatives. They also run a number programmes such as the rare and endangered species introductory programme; the leopard monitoring and rehabilitation programme and the alien and invasive plant clearing programme.

The reserve and lodges are situated 105 kilometres outside Port Elizabeth thus it is an ideal getaway for those in the city.



This month, Sleeping-OUT and Pumba Private Game Reserve are giving away a 1 night, fully inclusive stay for 2 people. The prize is valid from 1 May to 30 September 2014.

To stand a chance to win, make sure you like our Facebook page, and answer this question in the comments below: Pumba Water Lodge overlooks which lake?*

*N.B. Please use an active e-mail account, your full name and tell us where in South Africa you are based…