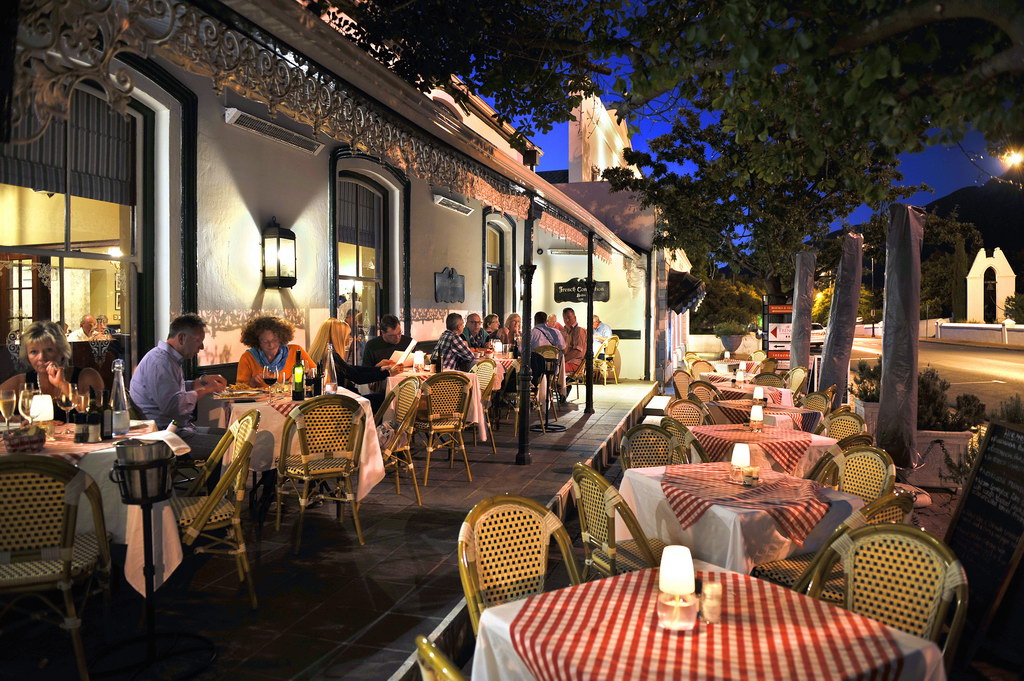 Although just 80kms outside of Cape Town, a weekend in Franschhoek feels just like being in Tuscany, Italy. With farmhouses, olive trees, rolling vineyards and incredible food & wine (although we like to think that South African wine is much, much better), the scenic town of Franschhoek is the epitome of romance.
Here is our itinerary suggestion for a romantic weekend in Franschhoek:
Saturday
Relax and be Pampered at Camelot Spa
What better way to start your morning than being pampered by the team at Camelot Spa at Le Franschhoek Hotel. The hot stone massage is our favourite and comes with all the bells and whistles. Before your treatment, slip on a warm, fluffy robe and sip on hot, fruity, herbal teas whilst you recline on elegant loungers. After your treatment, return to the loungers with a glass of champagne and lavish treats.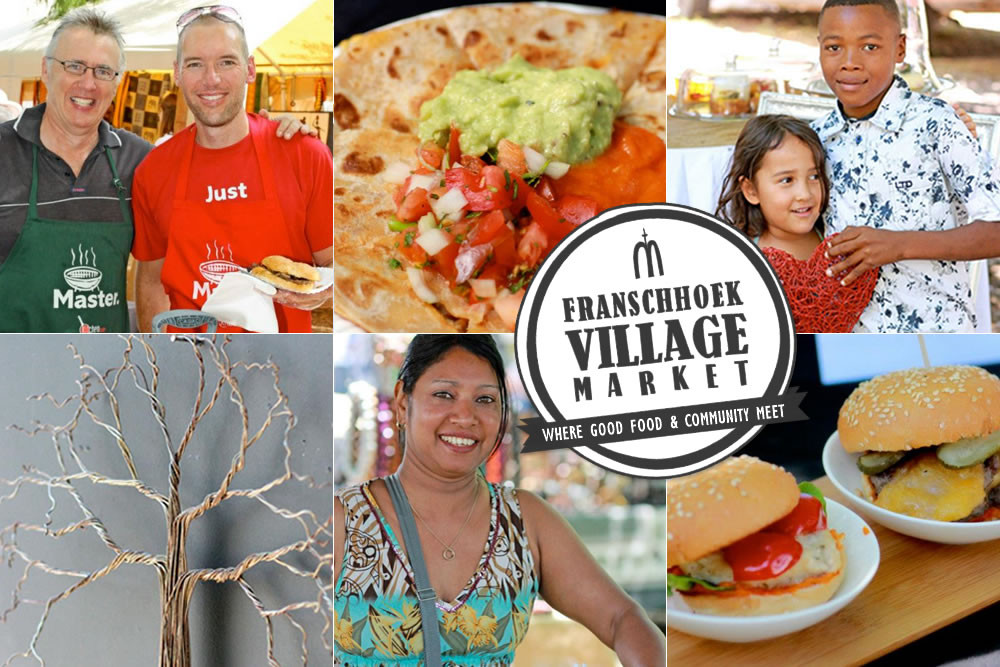 The market trades every Saturday from 9am to 2pm and focuses on fine cuisine and craft. This is the perfect place to enjoy a late breakfast or lunch as you can sample a variety of tasty treats while you stroll through the stalls under the trees. Think breakfast buns, steaming coffee, sweets and desserts, champagne & craft beers, smoothies, homemade jams & pickles, curry bunnies and brownies.
If you are a bit of a pro at bartering, now's the time to try your luck. Talented vendors have stalls filled with wire sculptures, antique collectibles, herbal plants, books, leather products, Stirling silver jewellery and art.
Explore the Countryside on Horseback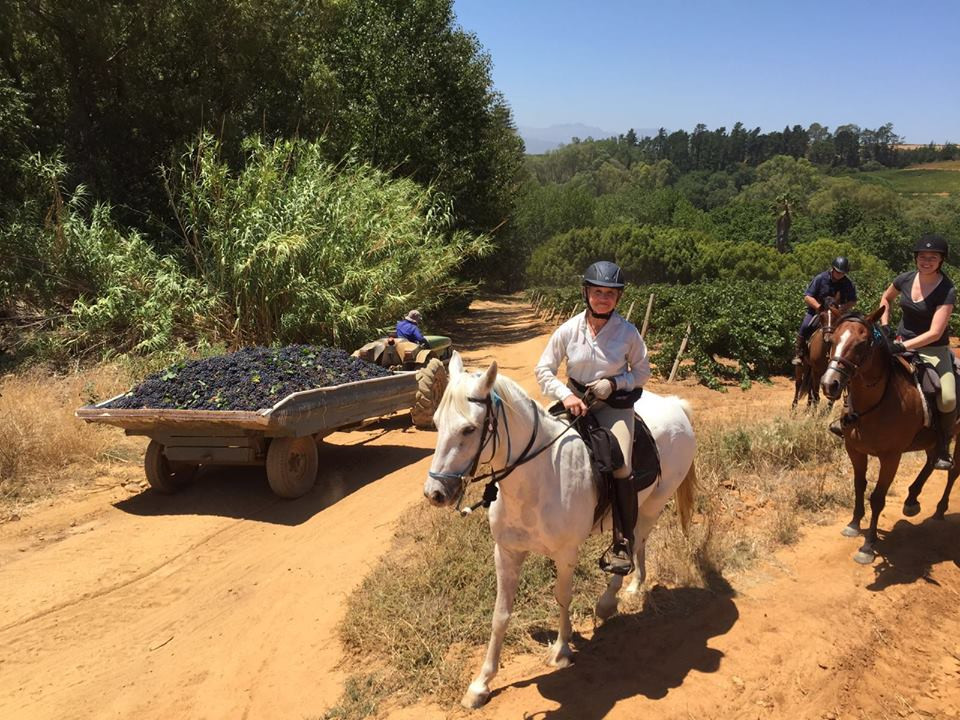 Cape Winelands Riding offers a number of different trail rides through the vineyards and orchards that form part of the local scenery. Guests can choose from one, two or three hour rides and a wine tasting ride is also available should you want to try a few more Franschhoek varietals. All outrides are led by skilled professional riders and knowledgeable tour guides and riders can have any skill level.
Watch the Sun Set on Franschhoek Pass
Also known as Lambrechts Road and Olifantshoek ("Elephants Corner"), Franschhoek Pass offers majestic views of the Franschhoek valley and wine farms. Adventure seekers flock to the pass with skateboards, bicycles and motorbikes and romantics find a pretty spot to stop and take in the surrounds (there are several safe view-sites along the way). We suggest taking an early supper picnic and a bottle of wine or bubbly with you.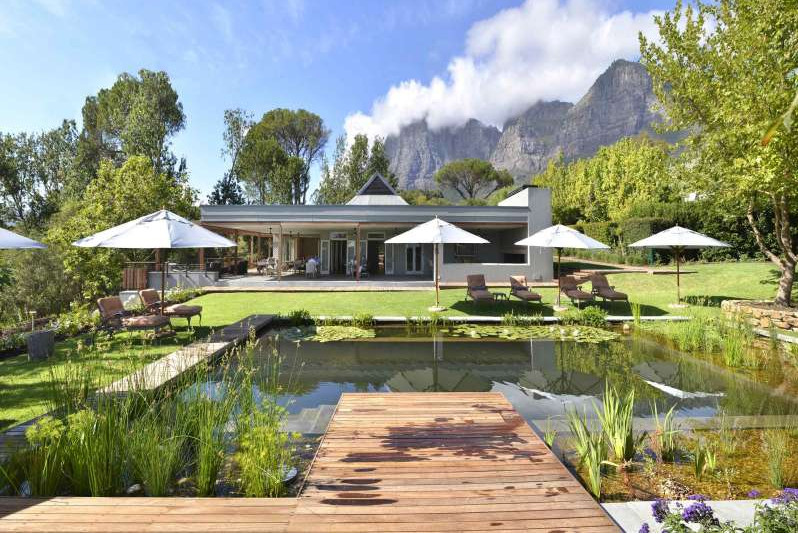 Angala Boutique Hotel is where homely luxury blends with the pristine beauty of nature. The suites and cottages are spacious and fully equipped and a restaurant and airport transfers are also available on-site for your convenience. Professional spa and massaging treatments can also be booked in the comfort of your room should you want added luxury.
On warmer days, you can have a dip in the sparkling Eco Pool which creates the natural filtering process found in mountain streams, rivers and ponds. If the budget allows, we suggest staying in the River Cottage. Perfect for honeymooners, the cottage has a separate bedroom, lounge and kitchen / dining area. The bedroom has an en-suite with an outdoor shower and a private outside bath and seating area. It also has it's own pool with views overlooking the dam and mountain.
Sunday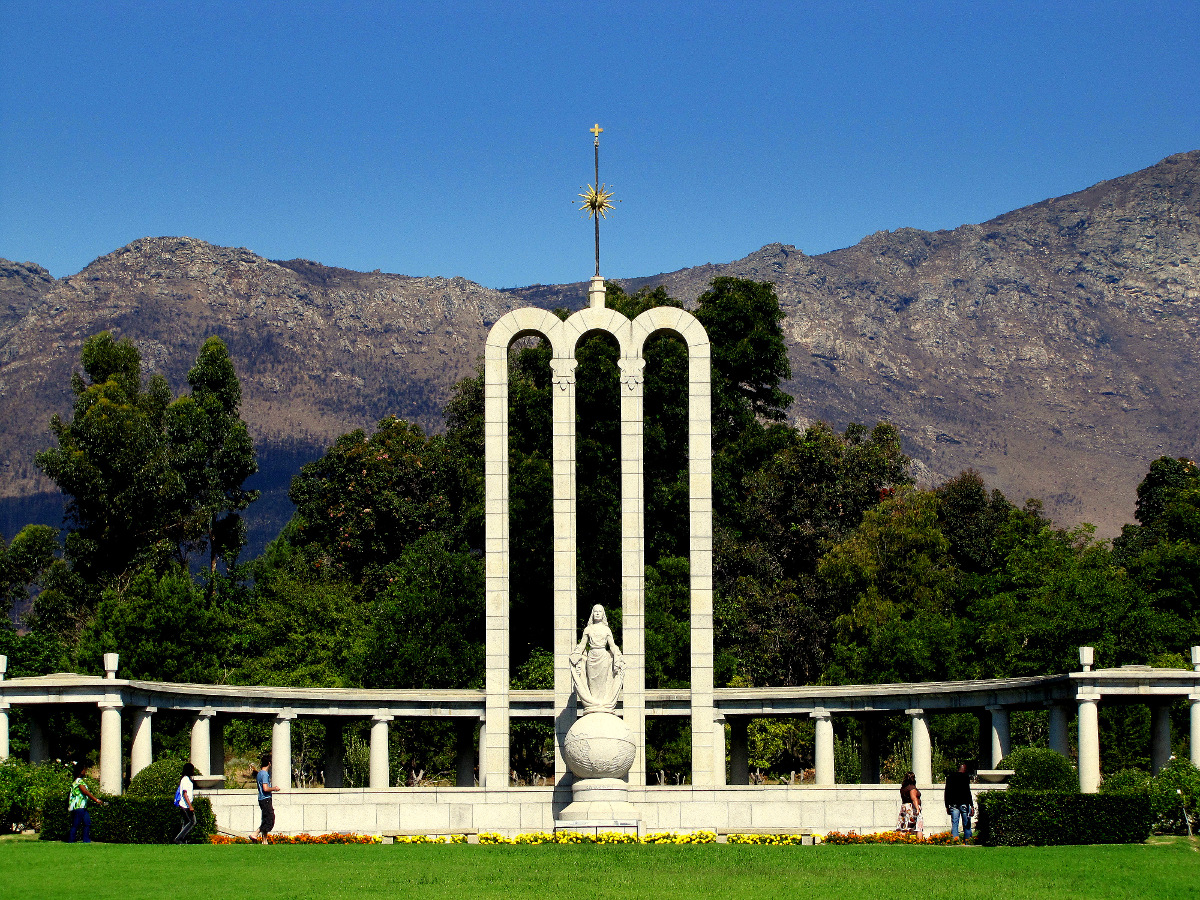 The Huguenot Monument was designed by J.C Jongens in 1945 and is dedicated to the cultural influences that Huguenots have brought to the Cape Colony. The three arches of the monument symbolize the Holy Trinity; the Father, the Son and the Holy Spirit and the female figure in the centre personifies religious freedom with a bible in one hand and a broken chain in the other.
Those who are interested can learn more at the Huguenot Museum for just R10 for adults, R5 for students and R2 for children. If the weather's being kind, stroll through the manicured gardens and enjoy the sunshine.
Hop on the Franschhoek Wine Tram
Passengers on the Wine Tram will be taken right into the centre of the Franschhoek Valley and can experience a variety of wine estates such as Rickety Bridge, Grande Provence, Holden Manz, La Bourgogne, Mont Rochelle, Dieu Donne and Leopard's Leap. The tour takes place on a open-side tram and/or tram bus and provides narration on the history of Franschhoek and wine cultivation as well as two complimentary wine tastings. Seeing as the tram is hop-on hop-off, passengers can spend as long as they want at each stop and hop-on again when they are ready (the tram or tram-bus passes each stop once an hour so the minimum stay is 1 hour).
We suggest stopping for lunch at Paulina's at Rickety Bridge. Two days is just not enough time to experience all the culinary delights that Franschhoek has to offer but Paulina's helps a little by offering half portions which are great for sharing. We advise getting three or four half portions to share between two; the Caesar Salad, Grilled Baby Patagonica Calamari and the Pork Belly are our favourites.
Satisfy that Chocolate Craving at Huguenot Fine Chocolates
One cannot visit Franschhoek without a visit to Huguenot Fine Chocolates. Famed for their fine hand-crafted Belgian chocolates, it makes sense that this boutique chocolaterie is located in the gourmet capital of South Africa. The owners of the store are Belgian-qualified chocolatiers and they show off their skill by making chocolate in view of visitors to the store. The chocolates can be purchased individually or in beautiful packages, perfect for gifts. Our favourites – the Amarula Cork and the Champagne Truffle.
With a weekend filled with spa treatments, fine cuisine, spectacular views, magical sunsets, wines, bubbly, and chocolate, we are sure you will leave Franschhoek rested, inspired and more in love with your better half!
For more accommodation options, have a look at our accommodation in Franschhoek.