An hour and a half from Cape Town, up the scenic West Coast lies Saldanha, a small fishing town and natural harbour. The bay upon which the town is perched is ideal for water sports while the fresh seafood available there is something to write home about too. As you can imagine, there is plenty of demand for accommodation there, but the Protea Hotel Saldanha Bay is definitely up there among the best.

Having recently undergone a refurbishment, the hotel is light, airy and modern providing the ideal place to kick back and enjoy the view. Situated on the main road of the town, it is easily and conveniently located. What is really special though is its position on the edge of the bay. The communal lounge, the dining room and most of the bedrooms have pristine views of the turquoise sea, which works well with the hotel's colour scheme and beach house décor.



Throughout the hotel the neutral colour pallet with splashes of blue will drive home the sense of a relaxing beach holiday, which of course is exactly what you'll have if you stay there.

The hotel has a number of room options ranging from deluxe suites with LCD televisions, en suite bathrooms, balconies and stunning views to family rooms and standard rooms. There is a restaurant on site too and wifi throughout the hotel. There is also a bar where one can retire to after dinner. In the summer months guests can experience the pool with its view out over the bay, or make use of the mini-golf course or volleyball court.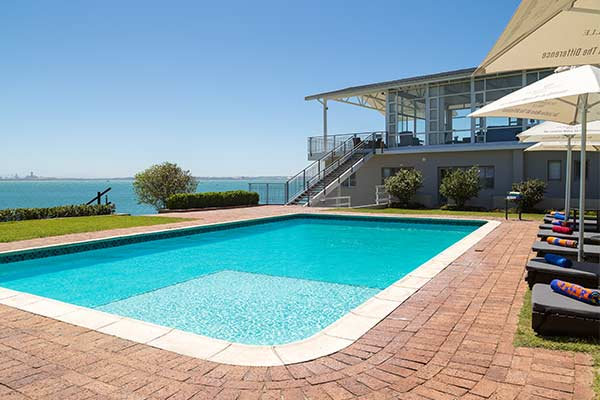 One of the major draw cards of the area is the water sports, and given the hotel's private jetty, this is yet another great opportunity to enjoy the Protea Hotel Saldanha Bay to its fullest. Finally, the hotel has a business centre and conference centre, which can be utilised for work functions or private events.

Whatever your reasons for visiting the Saldanha Bay Hotel, you are assured of a great time and guaranteed to return to Cape Town energised and inspired.

The Protea Hotel Saldanha Bay and Sleeping-OUT are giving away an overnight bed and breakfast stay for 2 people.

To stand a chance to win, follow these instructions:
1) Answer the question in the comments below.
2) In the same comment, tell us where you're based in South Africa.
3) Don't forget to include your full name.

The question: Where in Saldanha Bay is the Protea Hotel Saldanha Bay located?