The road was winding, and wet. All along the side of the road were tall trees dripping large dollops of water onto the road, where leaves congealed into sludgy piles as cars chugged past, carving a route through them. Beyond the narrow tree line the earth dropped away and the world was taken over by searing mountain peaks with deep, dark crevices.
We pulled into our accommodation in the dark and were promptly greeted by our white-bearded host and his cat – a fittingly quirky greeting for this enchanted place. Trudging up the short garden path through the rain and into the cottage, we were met by a roaring fire and a large squishy sofa. Nothing could have been more welcome at that moment.
In the morning, pulled by the carpet of snow outside, we got up much earlier than is normal in such temperatures.  Skipping through the old farm gate and down the quaint lane leading to the main road, we were greeted by the type of winter wonderland that is usually reserved for Northern Hemisphere natives. It felt like the whole world was blanketed in clean, white snow and lucky to breathe in the crisp, fresh air.
Children were bounding around in oversized jackets and gumboots and adults were snapping pictures. The snow had arrived and Hogsback was embracing it! Strolling through town felt like we'd stepped onto another planet and the novelty of snow for Capetonians was too much to prevent us from dropping down and making our own snow angels.
For the rest of the day we wondered around Hogsback visiting the many enchanting nooks and crannies. The arboretum, which has a magical energy to it in summer, giving you the sensation that fairies might actually be real after all, had white dripping off every branch and the picnic tables were coated in a layer of clean white snow. Walking along the little footpaths yielded icy streams and rocks just the right size for enchanted picnics.
Back in town we indulged in a pub lunch – complete with a roaring fire, dark wooden rafters and a generous portion of bangers and mash.
The following day the snow had melted. What came in its place though was a real sense of just how 'tucked away in the mountains' Hogsback is. Without snow to distract one, the impact of the purple mountain tops was undeniable, and walking to the edge of town and peaking over the edge of the cliffs towards the Amatola Mountains gave you such a sense of freedom it was hard to comprehend. And that is just part of why Hogsback is so special.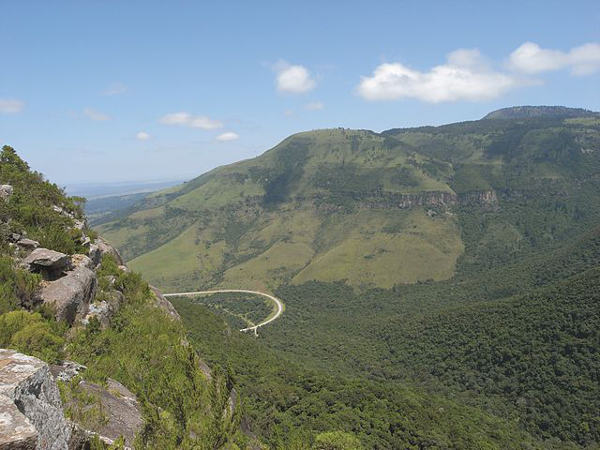 Come rain or shine, this tiny town possesses an energy which feels very magical. Nature imposes itself upon you in the nicest way and one inevitably comes away feeling refreshed and inspired. The locals are a quirky bunch with their chakra clearing practises and biodynamic small-holdings who make visitors feel instantly at home.
If you are thinking of visiting Hogsback, let me assure you that you will not be disappointed. While we spent most of our time bumbling around looking at things, people and places, a more active approach is welcomed with myriad hikes, rock climbing route and horse-riding trails at your disposal.
What not to miss:
Hike to one of the famous waterfalls, Madonna and Child, Kettle Spout or 39 Steps.
Walk along the bluff where you can peer over the edge of the world (feels that way anyway)
Visit one of the artists' lairs be it the Starways Pottery studio, the Attic Art gallery or a spot you discover yourself.
In winter (May to September) there's snow, but in spring and summer there are flowers, swimming in the waterfalls and bird-watching and general outdoor activities are more pleasant. You decide.
Where to Stay:
Check out Sleeping-OUT's page for accommodation in Hogsback. Self-catering cottages or backpackers are the most popular options.
Hogsback is really fun in the snow but it's not the only place that's great in winter. Check out these places that are best in winter. And don't forget to like our Facebook page too.
Photos © Wiki commons