By now news has reached the outside world of South Africa's impressive offering when it comes to wine. We really do have it all, from crisp whites like Sauvignon Blanc and Chardonnay to velvety reds like Merlot and Pinotage. Thinking about these wines inevitably has people imagining well-known regions like Stellenbosch, Paarl and Franschhoek, however, there is a mounting accoutrement of wine regions developing all over the country.
Here are some wine-growing regions you may not have heard of before, but which none-the-less offer a fun and tasty experience for the winos among us.
1) Robertson Wine Valley
The Robertson Wine Valley incorporates Robertson itself, as well as surrounding towns like Ashton and McGregor. The area lies within the Breede River Valley, so despite it being a dry and hot area, the river and its water provides some respite. The area, which is a 2 hour drive from Cape Town, has traditionally been known for Sauvignon Blanc and Chardonnay varieties, but its reputation for red wine is growing too.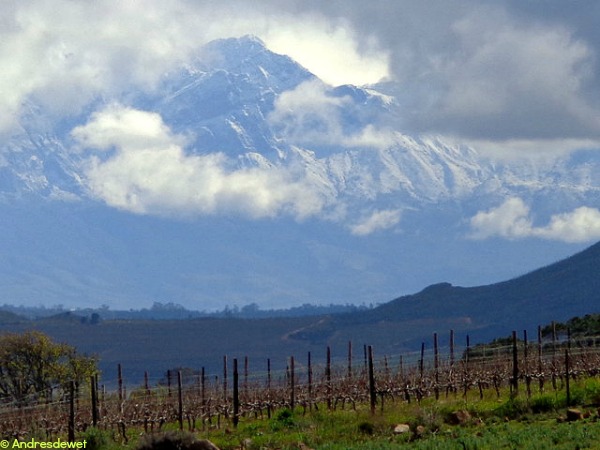 Suggested Itinerary
Robertson makes for the perfect wine tasting weekend, and there is plenty else to do too.
Day 1: Take a slow drive up, and after checking in to your hotel, head out to the Rooiberg Winery for some wine-tasting followed by lunch at the estate. In the afternoon visit the Klipdrift Brandy Distillery for a tour and more tasting.
Day 2: Drive a little way out to Excelsior Estate where you can taste wine as well as blend your own varietal, bottle it, cork it and take it home as a keepsake. Either have lunch at the estate or head to another one like Bon Courage, whose restaurant is housed in a beautiful old manor house, followed by a second round of tasting. Alternatively go for a stroll around town or take a gentle hike into the surrounding mountains.
Day 3: Take it slow today, whiling away the morning with books or conversation, before heading out for a Breede River cruise. Pay a little extra and have a braai lunch included. Spend the afternoon relaxing and head back to Cape Town in the morning.
2) Upington, Northern Cape
In wine circles this production area is known as the Lower Orange (a reference to the river which provides the irrigation water). This area is definitely one of the more obscure wine regions in South Africa, but that doesn't affect the quality of wines, thankfully. With over 350 kilometres of riverside vineyards, there are climate variations which result in plenty of wine variations.
Suggested Itinerary
The Northern Cape is the least populated of South Africa's provinces, and thus there is a lot of space between settlements, hence this is road trip country. Most of the wine farms are concentrated around Upington though.
Day 1: Arrive in Upington and get settled into your accommodation before visiting the Bezalel Wine and Brandy Estate. Here you can do a cellar tour and learn about the brandy distilling process. Taste their Chardonnay, port wines, brandy, liqueurs and witblitz (moonshine).
Day 2: On your second day, enjoy breakfast before heading 13 kilometres out of town to the Spitskop Nature Reserve for a hike among the planes game and striking landscape. Return home for lunch and a shower, then get ready for a sunset cruise on the Orange River, an undeniably tranquil experience.
Day 3: Leave Upington and drive the 2 hour stretch to Augrabies Falls, stopping off in the pretty town of Keimoes to snap some pictures of the historical buildings. If travelling in August, make sure to take note of the wild flower display!
Day 4: Devote a day to experiencing the 5th largest falls in the world, making sure to squeeze in a visit to the Riemvasmaak Hot Springs too.
3) Cape L'Agulhas
Cape L'Agulhas is a small town lying right at the tip of Africa. According to some it is where the Atlantic and Indian Oceans meet. As a wine-producing area it is veritably tiny, but wine connoisseurs concede that it has enormous potential. The proximity of the vineyards to the ocean means they experience a cool climate, making grapes ideal for Sauvignon Blanc, Semillon and Shiraz wines.
Suggested Itinerary
Cape L'Agulhas is a well-loved weekend destination largely because of the peace and tranquillity it offers visitors. The beauty of it is that it forces you to slow down.That said there are a few activities to keep you busy.
Day 1: Roll into Cape L'Agulhas get settled in your accommodation, winding down and getting into the slow pace. Perhaps go for a stroll on the beach or visit the lighthouse – the second oldest functioning lighthouse in South Africa.
Day 2: Today should be devoted to wine tasting. Start off at the stunning Hidden Valley farm where you can learn about growing vines at the windy tip of Africa. It boasts delicious wines and great views, as well as a fantastic restaurant – perfect for a lazy weekend lunch. If you have it in you, visit the Black Oystercatcher after lunch (booking in advance required) before trundling home for a chilled evening.
Day 3: If you haven't already, ensure you make a turn through Elim – a historic village which constitutes one of South Africa's few remaining mission stations. After checking out the white-washed fisherman's cottages and the Moravian church, visit the Lomond Wine Estate for a final wine tasting, making sure to check out the lovely gardens on the farm, then carry on through Hermanus and back home to Cape Town.
4) Klein Karoo
The Klein Karoo wine region is the eastern-most wine-growing region in South Africa, and thanks to the myriad micro-climates a diverse range of wines is produced here. Most of the vineyards are grown on slopes along river valleys, making for some scenic wine-tasting!
Suggested Itinerary
Day 1: Set off from Cape Town towards your first stop – Montagu. Go straight to the Montagu Wine Cellar (only open weekdays) before finding a quaint restaurant in town for lunch. In the evening go on a tractor ride up a nearby hill to enjoy a sundowner over the town.
Day 2: If there on a weekend, wander around the Saturday market, picking up some breakfast and artisan foods, and depending on the temperature, follow the market up with a gentle hike and some bird-watching on one of the nearby trails.
Day 3: Drive the roughly 2 hours to the gorgeous Karoo town of Ladismith, perhaps stopping off at the Barrydale Cellar on the way, where you can taste a variety of wines as well as potstill brandy. After unpacking, take a stroll around Ladismith, taking in the historical architecture before finding yourself at the Ladismith Cellar.
Day 4: Ladismith is renowned as a hiking destination, so if you are at all inclined towards hiking, this is the place to do it! Spend the day exploring the magical Towerkop mountain, or alternatively head straight to Calitzdorp.
Day 5: Spend your fifth day in Calitzdorp, where the Calitzdorp Cellar is famed for its port. Try the Cape Vintage and Cape Ruby ports, as well as the various muscadels on offer.
Day 6: The last stop on your tour of the Klein Karoo vineyards is Oudtshoorn, where Karusa will wow you with their selection of wines, bubblies and liqueurs. They also brew craft beer there. While you're in Oudtshoorn make sure you visit the Cango Caves and check out an ostrich farm.
5) Bot River
The Bot River wine region is a favourite amongst those who know about it. Experiencing a maritime climate, the area, although small, boasts a good diversity of wines such as Chenin Blanc, Shiraz and Pinotage. Furthermore, the cellars in this area tend to be small family-run affairs, and the quirky community is renowned for their conservation-conscious farming.
Suggested Itinerary
Thanks to the small, compact size of the area, the Bot River area can be explored easily in a weekend.
Day 1: Dive right in with a tasting, followed by a leisurely lunch at Gabrielskloof. If you feel like it you can visit the Kogelberg Biosphere Reserve – a UNESCO World Heritage site and part of the Cape Floral Kingdom – or you perhaps you'd rather save your energy for day 2.
Day 2: Either start off with a hike at Kogelberg, or stop in at Beaumont Wines, the oldest cellar in the region. Here you can visit the estate's old mill, lovingly restored to its original splendour and now operating as a 'living' museum, followed by more wine-tasting.
Day 3: On your last day you can visit Barton Estate, where there are not only wines up for sampling, but olives and olive products too. This is in addition to the lavender that's grown on the farm! Later drive through to Hermanus for some whale-watching and lunch, before moseying back to Cape Town.