2015 was an extremely successful year for the tourism industry, with holidaymakers exploring every nook and cranny of our beautiful country. While there are so many places worth visiting, these are the areas that are considered the most popular holiday destinations of 2015.  Take a look to see how this year's list compared to 2014's favourited hotspots.
Visitors to Morningside in Durban are greeted to the sights of charming, age-old buildings, scenic park and gardens.
This leafy suburb in KwaZulu Natal has fast become a favourite among holidaymakers. We are happy to announce that it is the latest, most exciting addition to our list!
The biggest attraction for nature-lovers is without a doubt, Jameson Park. Home to 600 sub-varieties of roses, horticulturalists can feast their eyes on the smells and sights of these beautiful flowers while learning a thing or two about them too. Families and couples looking for a nice afternoon out can pack a picnic sprawl out in on the lawns.
For revellers and socialites, a night out on Florida Road should be on the cards. Here you'll find the trendiest clubs, bars and restaurants in all of Durban.
We are happy to announce that this leafy suburb is the latest addition to our list.
Many Joburg residents make their way to Bluff every year for the festive season, a holiday characterised by sunshine and many trips to the ocean.
While the 'Vaalies' still enjoy basking in the sun at Bluff's renowned beaches, this picturesque, beachside town has dropped a few places since last year.

Bluff is a prominent geographical feature in Durban, comprising of long, rounded ridges of sand dunes – certainly not a sight you'd easily forget.
Harbouring Durban's most iconic beaches – Anstey's and Brighton Beach – family-orientated beaches that are patrolled by qualified lifeguards and protected by shark nets. Children and adults who are wary about swimming in the ocean can take a dip in either the fresh water paddling or tidal pools.
Visitors looking to escape the sun and sand can play a round of golf at the prestigious Bluff National Park Golf Club. For a cultural experience, take a tour of the old whaling station.
If you're looking to escape the hustle and bustle of Durban, Ballito is the ideal holiday destination for city-dwellers looking for some rest and relaxation.
KwaZulu Natal turned out to be holiday destination of choice for 2015, as Ballito is yet another 'new-kid-on-the-block'!
Having started as a rural seaside resort for wealthy Durbanites, it is now a thriving mini-metropolis, as it now boasts a few shopping complexes, business centres and many restaurants.
While Ballito has certainly become more commercialised over the years, what attracts tourists the most are the beaches. Willard's and Boulder's Bay are known for their tepid waters, safe swimming and fishing opportunities.
Margate is home to a number of blue flag beaches, meaning that beach-goers can swim in clean, environmentally-friendly waters.
While Margate comes with majestic beaches and tranquil views, its popularity has taken a dip since 2014!

Take a visit to Ramsgate Beach, where you'll be able to partake in a myriad of water activities – from scuba diving, snorkelling, surfing and water-skiing.
Other attractions to the area include a visit to the renowned Oribi Gorge, a park that is home to bird life and a variety of game. Keen golfers can play in the surrounds of sprawling greens and tree-lined fairways at the Margate Country Club. Alternatively, market-goers can walk the streets of Margate to check out the various craft stalls found throughout the town.
Visitors to Umhlanga Rocks will be treated to the best of both worlds – golden stretches of beach and one of South Africa's largest shopping malls, Gateway Theatre of Shopping.
While forming part of the top three in 2014, this upscale town that boasts beachfronts and shopping malls, has been beaten by other worthy contenders.
Apart from swimming in the warm Indian ocean and going on a shopping expedition, holidaymakers enjoy a range of outdoor activities. This is made possible by Umhlanga's sub-temperate climate, which rarely fall under 20-degree celsius. If you are an adventurist looking for an exciting thrill, you can try your  hand at micro-lighting, deep sea fishing, scuba diving or surfing.
Langebaan is the ideal location for holidaymakers who enjoy bird watching and a tranquil getaway away from city living. Considered the 'jewel of the West Coast', the town is not commercialised, meaning that it is semi-rural and free of the usual stresses that are brought on by industrialisation.
Langebaan continues to be an old favourite among holidaymakers, holding the same rank as it did in 2014.

A common attraction of Langebaan is the West Coast National Park, a protected area that lies just outside the town, and is home to over 300 species of bird. For those who are not  twitchers, there are several gentle walks that snake around the park. If you're visiting between the months of August and September, you'll be enthralled by the sights of cape wildflowers that bloom along the coastline.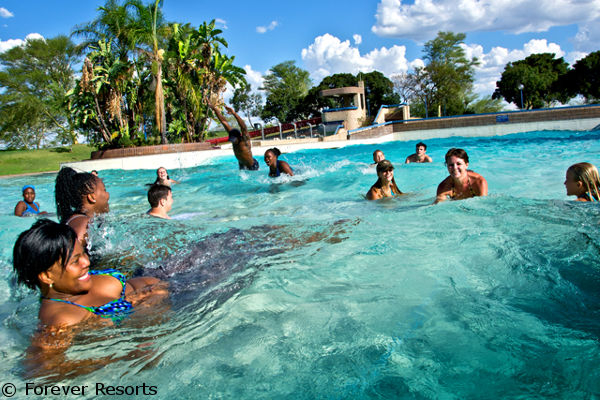 'Bela Bela', which means 'boiling boiling' is named after the hot springs that are found in the area. As one might imagine, this is a major drawcard for visitors. The limestone minerals infused in the water help to relax those who wish to ebb life's stresses away.
The springs of the beautiful Bela Bela continue to attract tourists from far and wide, with its position remaining unchallenged and firmly in fourth place.

Bela Bela is also an excellent base for some major exploring. The town is in close proximity to many trails and hikes. Those on the hunt for an African safari can find numerous reserves in the surrounding area.
If that's not enough, Bela Bela has of late, become a hub for daredevils on the prowl for some exciting adventures – think hot-air ballooning, quad biking and white-water rafting.
Bloemfontein, meaning 'Fountain of Flowers', is an appropriate name given that it is an 'oasis' in the middle of the semi-arid Free State Province.
Finally, Bloemfontein has been recognised for the beautiful oasis that it is, and is our favourite latest addition! Congratulation to Bloemfontein for making it into the top three!
A visit to the city during Springtime will grant you the opportunity to see and smell hundreds of roses in full bloom – an occurrence that is commemorated with the city's annual Rose Festival.
Apart from being home to various rose varietals, Bloemfontein hosts the Macufe festival. This popular event showcases and celebrates Africa's diversified culture and talent.
Hartbeespoort is renowned for its 56-km dam. On weekends and during the height of summer, locals and tourists flock to the dam for a quick cool off or to bask in the sun around the water's edge. Water babies like to take part in an assortment of activities, including jet-skiing, water-skiing, parasailing and windsurfing.
With its expansive dam and picturesque views, it may come as no surprise that Hartenbeespoort remains in the same position as it was last year!
As the town lying on the foothills of the majestic Magaliesburg mountain range, hikers and outdoorsmen can explore the area on gentle walks or long, strenuous hikes.
With Sun City, Pilanesberg National Park and Madikwe Game Reserve being close by, Hartbeespoort acts as a gateway to these major attractions. Visitors en route are encouraged to take a pit stop here before carrying on with their journeys elsewhere.
For the second year running, Knysna has been voted the top South African destination of 2015.

The winner of our favourite destination of  2015 remains the same. What with its stunning views and myriad of activity, we aren't surprised!

With its dense forests, expansive lagoons and major festivals, we aren't at all surprised at this.
Locals and holidaymakers spend their time exploring the area through various hikes, cycling routes and even some horse riding along the coastline.
The festivals, which happen throughout the year, see many flock to the town for these highly anticipated events. Every July, seafood enthusiasts have the opportunity to indulge on vast amounts of oysters during the Knysna Oyster Festival.