When it comes to exciting destinations around South Africa to visit, Pretoria – or Tshwane as it is officially known –  probably isn't the first places you'd think of. Our Capital City has a bit of a reputation as a boring town with not much going on, but look again! Pretoria is actually a vibrant city where you can enjoy beautiful scenery, party, take in arts and culture and indulge in fine dining – if you make the effort to look a little further than meets the eye…
Here are some things that you didn't know about Pretoria!
Pretoria is known as 'Jacaranda city', since so many of it's streets are lined with Jacaranda trees which explode in purple during spring. Jacaranda season also coincides with university exam season and urban legend has it that if a flower from the Jacaranda tree drops on your head, you will pass all your exams.
The Pretoria National Botanical Garden is a good place to appreciate some of Pretoria's lovely fauna and flaura. It has a 50ha indigenous garde comprising savannah, forest and fynbos biomes. The garden is popular for picnics, walking trails and children's parties. There is also a visitor centre and shop, an environmental education centre and a restaurant.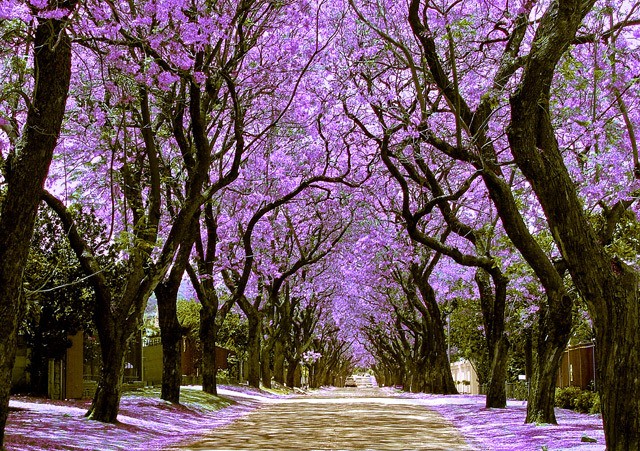 Pretoria is by no means a small town, with more than 2.3 million people residing  in the city. It is also one of South Africa's leading academic cities, home to University of Pretoria (the largest residential University in South Africa), the Tshwane University of Technology and UNISA (the largest distance education university in the world).
Testament to it's size and importance, the impressive Gautrain runs within Pretoria and through to Johannesburg, making stops in Centurion, Pretoria CBD and Hatfield. This makes travelling to and within Pretoria convenient and safe.
Pretoria is important for our heritage 
The Union Buildings – site of the official seat of the South African Government – is based in Pretoria. It also houses the offices of the president of South Africa. The majestic buildings and surrounding lush gardens have become an iconic landmark of Pretoria and South Africa in general.
The Voortrekker Monument is another important site in our heritage as it commemorates South Africa's pioneer history. The monument is set in a nature reserve and is one of the most visited heritage sites of its kind in Gauteng and one of the top ten cultural historical visitor attractions in the country. During summer, a popular series of music concerts called 'Park Acoustics' take place on the grounds and attracts the young and trendy of the city.
Rugby flows through the veins of many a Pretorian – a popular tag line being "our blood is blue" (in support of the city's rugby team, the Blue Bulls). Rugby mania is especially evident on match days, so if you're visiting Pretoria, see if you can catch a game at Loftus Versfeld Stadium – the scene of many a victory by those Blue Bulls.
Menlyn Shopping Centre in Menlo Park is a massive mall offering over 300 stores, 37 restaurants, an Imax Theatre, an outdoor events arena, play park, a rooftop drive-in cinema, go-karts, 3D NuMetro Cinema, a market, FLY Me helicopter rides, fufi-slides and quad bikes.
There is a vibrant nightlife in Pretoria – in part due to the thriving student culture. The most popular nightlife area is found in Hatfield, where bars and clubs line the streets. For those who would prefer to avoid a student atmosphere, there are plenty of bars in Brooklyn (at Brooklyn Square) and Menlo Park (at Menlyn Piazza).
So give Pretoria another look, you might be surprised!