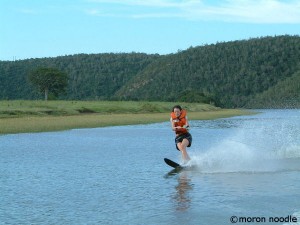 Find Port Alfred Accommodation
Port Alfred is located in the heart of the Sunshine Coast, which receives the most annual sunshine in South Africa. Located between Port Elizabeth and East London (both have airports), Port Alfred has a huge amount on offer for the outdoor enthusiast as well as good shopping and a wide selection of entertainment and dining.

Two blue flag beaches, Kelly's and East Beach, have made Port Alfred a popular place to relax and soak up sunshine in comfort and safety. East Beach offers very good surfing and Kelly's and West Beach offer great kite- and wind-surfing.

For golfing enthusiasts, the Gary Player-designed Fish River Sun course and the Royal Port Alfred Golf Course offer magnificent sea views. Enjoy two 18-hole courses as you play alongside pristine coastal bush shared by small antelope. On some days you may even see whales and dolphins!

If you prefer to be on the water, Port Alfred's prominent Kowie River is navigable up to 28km upstream, so there is plenty of room for water skiing, fishing and river cruises. There is also a two-day Kowie Canoe Trail where enthusiasts can overnight at the majestic Horse Shoe Bend in the Waters Meeting Nature Reserve. Just a 20- minute drive takes you to the Kap River Reserve with game viewing and tranquil, private canoeing. The birding there will not disappoint either!




Near the Kowie River mouth there are many picnic and braai areas. Why not enjoy a sundowner along the river as you fish for dinner? And for those who like to be out on the ocean, deep sea fishing and diving are available.

Children will be delighted with the shallow and safe Kidds Beach and the neighbouring towns of Kenton, Bushman's and Kleinemonde have lagoons also offering ample sheltered swimming. Kamp Kwena has a weekend holiday programme as well as sandcastle competitions and other delights run by Sunshine Coast Tourism.

If you prefer terra firma, there are hikes and walks aplenty. The Woody Cape Nature Reserve offers wonderful birding, and the five day Shipwreck Trail takes you along some of South Africa's very best coastline as far as the Fish River Lighthouse. Three Sisters Horse Trails provides an unforgettable experience if you've always dreamed of cantering along the beach.




The greater Ndlambe (Port Alfred) area offers excellent game drives, and the opportunity to see the Big 5 in a malaria-free area. Luxury game farms abound, including Sibuya, Pumba and Oceana. Just a little further afield is the 5-star Shamwari Reserve and the well-known Addo Elephant Park.

The area is rich in Xhosa history and 1820 settler architecture. Port Alfred and historic Bathurst share between them five museums, including The Kowie Museum in Port Alfred's Old Station, and the Agricultural Museum. Additionally, Bradshaw's Mill and The Toposcope are sites to satisfy any historian's appetite.

Bathurst also has the oldest pub, Anglican Church and primary school in South Africa. Visitors will find charming craft, pottery and coffee shops near pineapple farms. A 45-minute drive to the cultural centre of Grahamstown will be worth every minute as you take in its cathedral, museums, settler architecture and university and school campuses. The annual National Arts Festival is second only to the Edinburgh Arts Festival in size and scope and an absolute must-do around July.

Port Alfred boasts two shopping malls – Heritage and Rosehill – as well as a cinema, and a good selection of restaurants and coffee shops. Let's not forget locally made beer on old Wharf Street – and of course fresh fish!

This post is courtesy of Richmond House Cottages.