Sometimes, for those with a stressful life, a weekend away is just simply not enough, but what better way to de-stress than going to the Spa? Slip into a warm, bubbling Jacuzzi or relax with a luxurious full body massage, which should be a must on any weekend away. To help you find your perfect place of peace, we have listed the Top 10 establishments on Sleeping-OUT, based on their guest satisfaction rating, that operates as a guesthouse AND spa, for those wanting the full package….. Rest and Relaxation!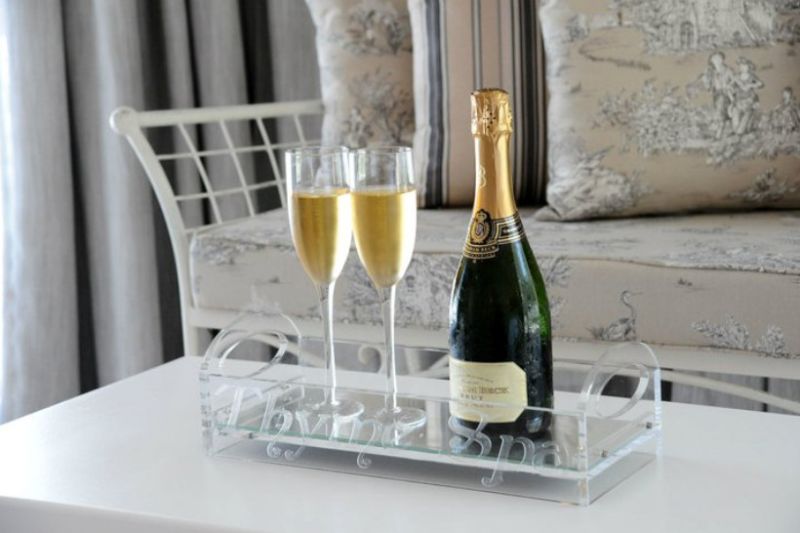 Thyme Wellness Spa and Guesthouse is a day-and-stay spa that takes an uncompromising approach to health, well-being and beauty. They are situated at the edge of the Tygerberg Nature Reserve. Facilities include two wet treatment rooms, two spacious treatment rooms and a candlelit couples treatment room. Guests also have access to the heated pool, Jacuzzi and steam room.
"The most beautiful and scenic place I've been to. It was a real blessing to have the view of the city and the mountain. I don't regret one bit of my stay. Thank you for the amazing service."
– Tiyani Ndlovu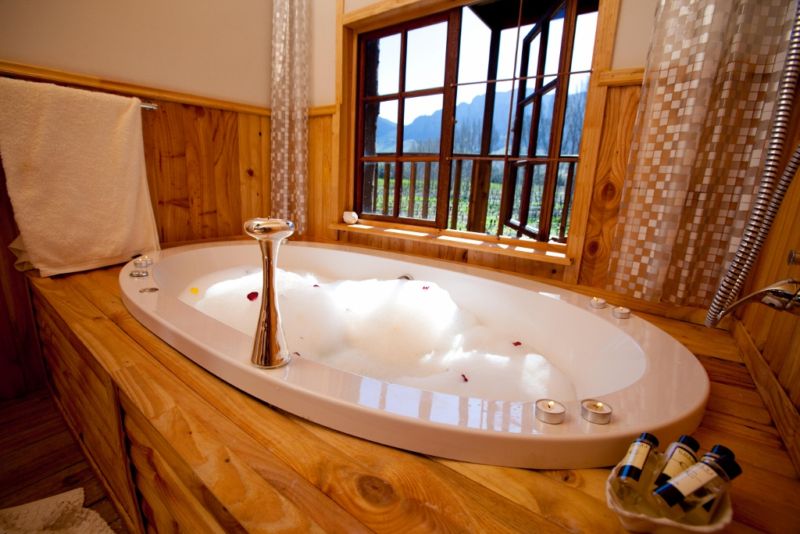 Nestled in the Tulbagh Valley, only 90 minutes from Cape Town you will find "a little piece of heaven" on Vindoux Guest Farm. A family run, working fruit farm, it has all you need to feel pampered, relaxed and rejuvenated.  Lock yourselves away from the world with breakfast and dinner delivered to your door. The only reason to leave is for a couples massage at the onsite day spa.
The Armagh, Rafters Restaurant and Tsitsikamma Mountain Spa sits gracefully at the foot of the Tsitsikamma mountains surrounded by natural forest and fynbos, in the village of Storms River. Relax around a log fire in their acclaimed restaurant, or on the patio under the stars, and enjoy delicious South African cuisine and the Robertson Valley's most selected wines from their well-chosen wine list. A magical rustic spa set in Armagh's own gardens will definitely complete your happy experience.
Nestled within the magnificent Wilderness National Park amidst lush vegetation, Lakeside Lodge & Spa is literally situated on the banks of the beautiful Swartvlei Lake. The Lodge is unique and offers five star luxury accommodation and a wonderful place to escape from city life so simply kick back and enjoy. The bedrooms are all beautifully decorated, with luxurious linen and every bedroom is Lake facing. The Lodge has its own small spa so why not treat yourself to a massage for the perfect pamper experience?
"The staff was extremely friendly and the facilities wonderful. Definitely a place worth going back to."
– Santie Brink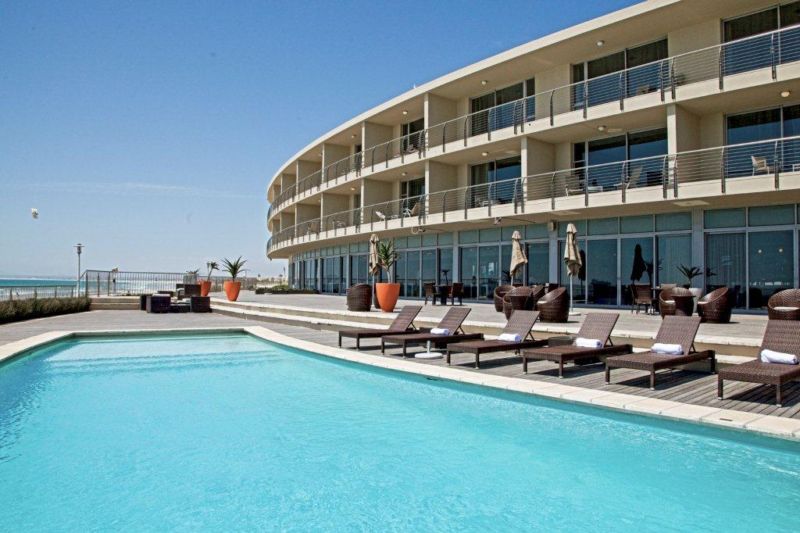 With unrivalled views of Table Mountain, Cape Town's second largest conference venue  Lagoon Beach Hotel and Spa offers you direct access to the scenic Lagoon Beach Strand and quick access to Cape Town's central business district. Camelot Spa, located in Lagoon Beach Hotel, has chosen their therapies based on the knowledge of the pressures and demands placed on the body by the strain of urban living. Wisdom of balance, professionalism and holistic treatments promote a healthy body and state of mind.
When you come through their secured entrance gate you discover the hidden Gem in an oasis of peace and tranquillity. The Spa provides an unrivalled South African wellness and relaxation experience, with its unique sanctuary to be enjoyed by couples, groups, individuals, men and women of all ages. Here you are welcome to walk around in your robe and slippers all day long and enjoy being pampered by our professional therapists.
Built entirely of logs, and a particularly well-known honeymoon destination, the Lodge has 34 cosy log cabins set in a beautiful garden setting with spectacular mountain and forest views. Each cabin features its own spa-bath and a private deck and own barbecue facility, multi channelled television, mini fridge, telephone and coffee/tea facilities.  Facilities include a Spa, large swimming pool, games room, sun deck, lounge, fascinating forest walks and the very popular Strip-Tease River Trail.
"Good value for money. Ideally located thus ensuring optimal Garden Route access. I took runs into the forest each morning during my stay which was priceless for a runner such as I am. I recommend Tsitsikamma Lodge and Spa highly."
– Shibishi Maruatona
Erinvale Estate Hotel & Spa, surrounded by the majestic Hottentots Holland Mountains. Erinvale, meaning "Irish Valley", is steeped in history and its rich heritage has been preserved as a result of its gradual transformation from a modest Cape Dutch-style farmstead dating back to the 1700s into the elegant four-star hotel of today. The entire layout of the property is a restoration of the historic buildings, with modern additions such as the replica of a quaint Irish chapel and a luxury wellness spa enhancing its quality and distinction in the hospitality industry.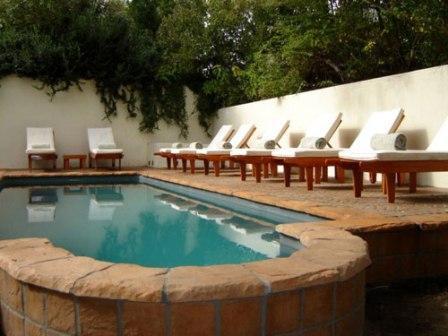 Experience friendly luxury and warm hospitality at Evergreen Manor and Spa, located in the historical core of Stellenbosch, the heart of the Cape Winelands. Built in 1904, in the grand Country House style, Evergreen offers gracious living and old world charm combined with every modern convenience. Our intimate Spa room offers guests the comfort of a variety of pampering Wellness & Beauty treatments from QMS & Decléor on their doorstep, adding value to their stay at Evergreen Manor.
"It's a clean place, the staff are very friendly and the neighbourhood is perfectly secure. If you are coming for executive short courses at Stellenbosch University, Evergreen should be one of your options."
– Simbai M. Doro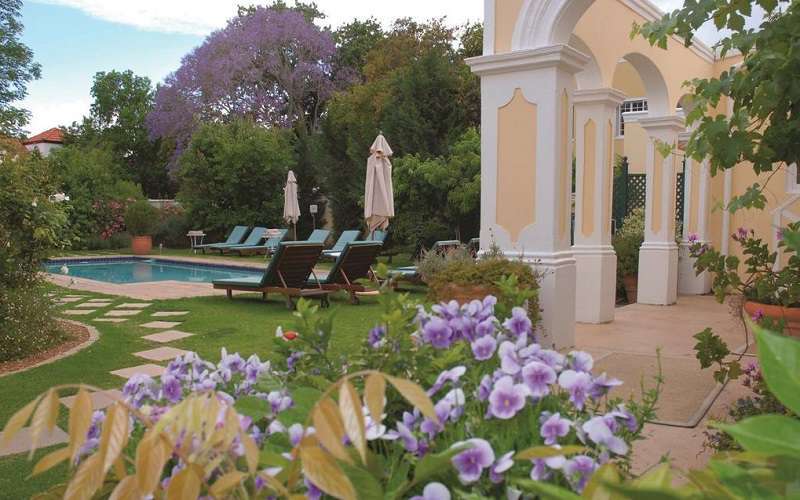 River Manor Boutique Hotel and Spa with its National Monument Status, is nestled in the heart of Stellenbosch and the Cape Winelands. This Historic property combines two Manor Houses, set across from the Eerste River, in an avenue of Oak trees. They offer a number of tailor made tours offering the best of what is available in the surrounding vineyards. Or simply indulge at the Intimate Spa enjoying true pampering and rejuvenation for the body, mind and soul.
This sums up Sleeping-OUT's Top 10 Guesthouses that also operate as Spas, in the Western Cape as voted by our guests. We hope that it helps you find your favourite!