The school holidays are here, which is fantastic if you happen to be at school. However, for the majority of us, the three week period in late June/early July passes by with hardly a sideways glance from us (unless, of course you are a parent faced with entertaining your children for 3 weeks – in which case look at this post about kids' activities at the V&A Waterfront). 
The thing is, no matter how much we claim that travel and holidays are things we really, really want, often the ugly reality of insufficient time and money hold us back, which is where the magical world of travel books comes in.
If you are tied down by work or other commitments and travel is but a distant spot on the horizon, simply set aside some time for burying your nose in a good book. Here are some solid go-to travel books that will have you transported within the first chapter or two.
Shantaram – Gregory David Roberts
Part autobiography, part fictional tale, this book has been doing the rounds for years, however there is good reason for that! Within the first few chapters you are riveted by life in Bombay –the incessant honking of traffic, the wafting smells of spices and the striking colours of women draped in glittering saris. There is also the sight in your mind's eye of poverty, of expansive desert landscapes and polluted rivers. The storyline is pretty gripping too as Robert's guides us through the labyrinth of his life as a prison escapee, the assistant to an Indian mafia boss and soldier on horse-back. It is awesome in every sense of the word.
The Lost Continent – Bill Bryson
Good, old Bill, veteran in the travel writing industry can make you want to go anywhere, almost. Even the places that you don't want to go you'll enjoy reading about though! With a great penchant for making fun of himself and a keen sense of observation which allows him to convey the energy of a place – from the land/cityscape to the personalities within it, Bill Bryson brings a faraway place to your living room with apparent ease. In The Lost Continent he road trips around the Southern states of the USA encountering hamburger joints, sleepy towns and endless fields of corn. He marvels at the size of the country as well as of the people and reflects on how un-at home he now is 'at home' after over a decade of absence. It's fun.
Take a Seat – Dominic Gill
A young Brit decides to set off across the Americas, from North to South, on a bicycle. A tandem bicycle that is, onto which he invites anyone who shows any sign of interest. Between the plethora of characters he interacts with, the varied range of 'beds' he finds himself in, the local food he discovers and the grilling hills, soul-freeing coastlines, jungle sludge and seemingly endless desert he confronts, Gill's book will have even ardent bicycle-haters fantasising about conquering Latin America by bike.
Eat, Pray, Love – Elizabeth Gilbert
As with many books-turned-films, in some ways, the movie version has given the book a bit of a bad rap. As most people know by now, Eat, Prey, Love is about Elizabeth Gilbert's own journey to reconnect with herself after an unsatisfying marriage and then painful divorce. Over the course of a year she travels to Italy where she discovers the joys of real past and legit pizza. She describes it all in mouth-watering detail, and her exploits in Italian provide the side story. She then moves on to India where she experiences a series of small breakdowns/breakthroughs while still managing to convey the magic of India. Finally she takes you with her to Bali (because by this stage you will be fully invested!), giving you lucid imagery of the beaches and palm fronds, the bumpy village roads and the smiling locals. This is an excellent armchair experience as you get to visit 3 continents in one book!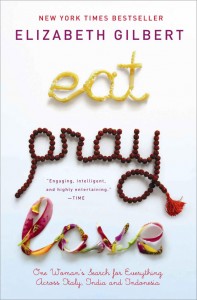 In the Pursuit of Solitude – Adam Cruise
For those of you who like a little philosophy mixed into your travel tales, In the Pursuit of Solitude is for you. In it, Adam Cruise sets off for a 6 month jaunt through Southern Africa with a view to find a place completely untouched by humans. Him and his wife scale desolate mountain passes, visit long-abandoned spiritual sites and escape beneath the waters of lakes and seas but soon realise that a place in Africa where human presence is not felt, is an anomaly. The focus thus shifts to finding examples of humans working with nature instead of against it. Throughout the journey, you dear reader are swept up in the giant, starry skies, the incessant drumming and laughter of Africa and the wide open spaces just as Adam was. And what a journey!
Do you have any favourite travel books which you can recommend to other armchair travellers?
Don't forget to like our Facebook page and follow us on twitter @SleepingOUT_SA.