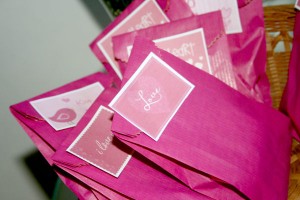 So another Valentine's Day has come and gone. Perhaps you spent it with your partner, or maybe you embraced the day with friends instead. At Sleeping-OUT we took the opportunity to spread some office love, with a tea party, dress-up competition, goody bags and a bit of philanthropy. A little silliness went down well in the office and overall it was a pretty good Valentine's Day.










This is the cute bunting which greeted us when we entered the office in the morning. There were also cut-out hearts dangling in various locations throughout the office and at the base of a pretty vase of flowers, a basket of Valentine's Day goody bags.



This is a glimpse of our tea party spread – marshmallows, biscuits, salmon cream cheese and crackers, and many varieties of cupcakes.



Some of our donations for the Slavation Army's Carehaven shelter, which provides shelter, counselling and skills training to abused women and their children. To donate your own contributions, contact them at careaid@iafrica.com.



The red-clad Sleeping-OUT team, with the odd pink-wearer and the yellow 'Bee' my Valentine.
Thanks to Maxine Woodruff for initiating the celebrations and Tatum Arnold for capturing the day on camera.
What did your office do to celebrate Valentine's Day?