South Africa, it's that time of the week to start planning for our 2 days of rest. Get geared up for the weekend with these exciting activities happening around the country.
Events in Johannesburg
Living in Johannesburg and looking for something to do that doesn't involve shopping or club hopping? Here're a few things you can do:
Sweeney Todd Musical

If you know the urban legend of the 'Demon Barber of Fleet Street', then venture down to the Pieter Torrien Theatre to watch the award-winning musical thriller this weekend.
Directed by the theatrical legend, Stephan Sandheim, Sweeny Todd is a barber who famously murders his clients; and with the help of his eccentric neighbour, uses their body parts in the town's much sought-after pies. While a seemingly dark, twisted plot; the storyline looks at what terrors, tragedy, and a murky background can do to a man.
Audiences can look forward to performances by an all-star South African cast featuring the highly acclaimed Candice van Litsenborgh – alongside Michael Richard, Jaco van Rensburg, Anne Marie Clulow, Adam Pelkowitz, and others.
This is a not-to-be-missed production featuring an iconic musical scores, suspense and a barrel of laughter.
Click here to book your tickets!
South Beer Fest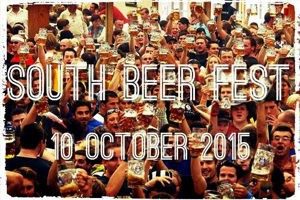 Nothing beats a cold glass of beer while watching the rugby or after a long day at work – what makes a beer even more rewarding is when it's free. Yes, you heard right, free.
The South Beer Fest is a one-of-its-kind event that will be doling out of unlimited beers, ciders and other types of alcohol – certainly a great way to get into the rugby spirit!
Book your tickets today to avoid disappointment!
Organic Life Fair



If you're a self-proclaimed health nut or looking to live a more holistic lifestyle, The Organic Life Fair provides you with an eclectic assortment of organic foods, fitness classes, and holistic healing methods.
Peruse through the various stalls and jumpstart your way to a healthier way of living.
For more information about the event, click here.
Events in Cape Town
For a Capetonian, it's often a challenge to plan a weekend with the seemingly endless activities happening in and around the Mother City. Here's are some hand-picked activities that help make the search that much easier.
Wine Made Art
While for most wine is for drinking, swirling and smelling, at Tokara Winery in Stellenbosch it serves an entirely different purpose.
The Wine Made Art initiative is in the name – where students from Marié Stander School of Art have used Tokara Shiraz as a medium to complete a series of artworks. The completed artworks are currently being showcased at Tokara, don't miss out on this unique display!
Siv Ngesi at the Cape Town Comedy Club
Nothing beats a barrel of laughs to start one's weekend – especially when it involves one of South Africa's most sought-after entertainers.
Best known for his performance in acclaimed production 'Sizwe Banzi is dead' and his more recent stand-up comedy 'Decaf', the funny man will once again be taking to the stage. Venture down to the Cape Town Comedy Club this Friday for a hoot and a half.
Don't miss out, book your tickets today!
The Cape Town International Boat show will be gracing the shores of the Mother City this coming weekend.
Currently in its 13th year of running, boating enthusiasts can look forward to a wide spectrum of displays – from simple paddle boards to multi-million rand cruise liners.
Click here for more information on the event.
Events in Durban
Durbanites are blessed with a mild weather temperament, so take advantage of the sunshine and warmth this weekend with these fun activities.
Pecanwood Oktoberfest

Make your way to the Midlands for the annual Pecanwood Oktoberfest.
Considered South Africa's most anticipated sporting and lifestyle events, festival-goers can look forward to beer tasting, an array of extreme sporting activities and live music performances by South Africa's top artists.
Beer drinkers will be pleased to know that a whopping 32 types of beer are available for the tasting; however if you're not mad about hops and barely, there are a selection of alcoholic drinks as well as food pairings to indulge in.
For those up for a bit of a challenge- there are a range of MTB 20 km or 40km trails, trail runs and a 4 x 4 technical challenge to partake in.
Finally, laze about on the sprawling green while South Africa's favourite artists take to the stage. The stellar line-up features MonARK, Lonehill Estate, The Kiffness, and others.
To view the full programme, click here.
Defending the Caveman

If you're looking for some side-splitting humour, you'd better not miss South Africa's perennial comedy show.
Starring funnyman Tim Plewman, the show outlines the plight of the beleaguered male in a battle of the sexes.
Don't miss out, book your tickets now before it's too late!
Umhlanga Farmer's Market
Start your weekend on a lazy note at the Umhlanga Farmer's Market. Get all your fresh produce and pantry staples at the various stalls including farm fresh fruit, double yolk eggs, dried fruit, nuts, vegetables and fresh herbs.
A veritable hit among the locals are the Scotch pies, haggis and black and white puddings.