With the end of May hurtling towards us, it might be time to start discussing the South African whale watching season. Through-out the year whale watching in South Africa will lead to sightings of species like Bryde's, Humpback and Orca whales but the jewel in South Africa's marine crown is, without a doubt, the endangered Southern right whale.
The Southern right whale migrates from its cold feeding grounds in Antarctica to the warmer waters of our southern coast to mate, calve and rear their young to maturity. During this period they can be seen (and sometimes heard) frolicking near the shore, impressing onlookers with sprays, jumps and tail-slapping (none of which are the official terms). Sounds exciting right? So how do you get in on the action?
Things to Consider
The when, where and how are questions worth considering if you're hoping to see whales.
When? They start appearing on South Africa's coastline in early June and stick around until as late as November, although the best time to see them is from June to September.
Where?
South Africa, believe it or not, has a 900 kilometre long designated whale route which begins on the Western Cape's West Coast at Doringbaai (Doring Bay) and extends to Storms River Mouth in the Tzitzikamma Nature Reserve on the famed Garden Route. Where exactly you choose boils down to what kind of experience you want to have.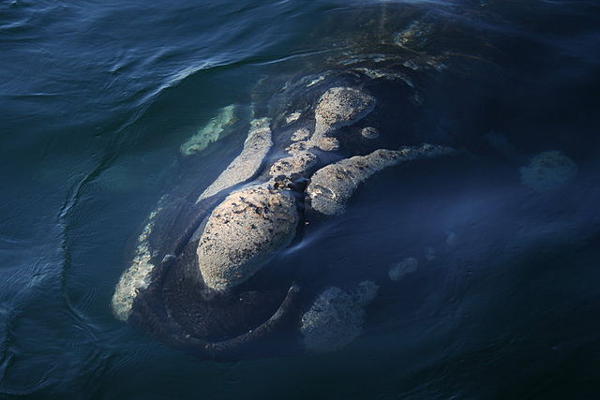 Good whale watching destinations around South Africa's southern coastline include:
Whale Watching in Lambert's Bay
This small fishing village 280 kilometres north of Cape Town, gets the most Southern right activity from July onwards. Boat trips are available but often the whales frolic so close to shore that they're not necessary. Lambert's Bay is situated on the semi-arid West Coast, a place of wild weather and stark scenery.
Whale Watching in Cape Town
In Cape Town, the gentle giants converge upon False Bay. A lovely way to catch a glimpse is by walking the pathway that runs between Surfer's Corner on Muizenberg Beach and the delightful little harbour town, Kalk Bay. They come so close that you can often clearly make out moms and calves from the walk way. For a different view of False Bay and the visiting whales, get yourself atop of Boyes Drive.
Whale Watching in Hermanus
This is a small town which overlooks Walker Bay, a popular Southern right breeding ground. The cliffs above the bay make for excellent whale watching – so good that Hermanus is said to have the best land based whale watching in the world, a reputation which obviously pulls in the crowds. There is also the annual Hermanus Whale Festival to consider.

Whale Watching in Cape Agulhas
Combine a trip to the most southern tip of Africa with some inspiring whale-watching experiences. Cape Agulhas is a small village with not a lot going on apart from spectacular views and of course, Southern right whales.
Whale Watching on The Garden Route
This extraordinarily popular tourist route is also a hub for Southern right whale activity in their breeding season. In Wilderness a good vantage point is from Dolphin's Point on the Kaaiman's Pass and in Knysna, the Knysna Heads and Brenton-on-Sea will allow you the best view.
Whale Watching in Plettenberg Bay
Plettenberg Bay is in a league of its own where whale watching is concerned and competes with Hermanus as the whale capital of South Africa. Plett has the most organised whale watching tourism industry with regular boat trips scheduled and close monitoring of viewing distances and time spent with each creature.
How?
• Boat-based whale-watching is safe and generally dry. It's great as it provides a very intimate experience with these massive creatures. By the same token some people find the experience a little nerve-wracking (they are wild animals after all) and it can feel a little invasive.


• Land based whale watching is the most common in South Africa. Generally the Southern right whales come so close to the shoreline that one can have a very close encounter without stepping foot into their territory. It is a very satisfying experience and definitely the better option for the motion-sickness prone among us.
• Alternative options include kayaking and flights over the bay. Both of these options provide their own (significant) thrills but come at quite a high price. Helicopter flits are available in Cape Town and in Plett it's easy to arrange a short tourist flight. Kayaking is easy to arrange from Cape Town, Plett and some West Coast towns.
Are you inspired to plan a whale watching holiday in South Africa? Sleeping-OUT can help you plan your whale watching holiday! Browse whale watching accommodation now.