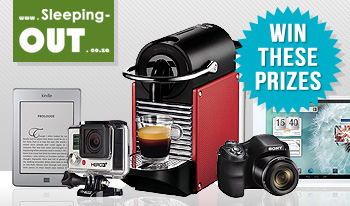 The Sleeping-OUT Free Accommodation Programme is now approaching the R2 Million mark!
As you all should already know, the Free Accommodation Programme is an initiative from Sleeping-OUT which gives guests the chance to stay for free at one of our participating establishments across South Africa.
On average, one in 10 guests will receive a free booking with the Free Accommodation Programme. All bookings between R1 and R100,000 are eligible and have an equal chance. It is entirely random so your very first booking could be free and you could win multiple times, should you be so lucky.
After two years of running this exciting programme, we are just about to reach the R2,000,000 mark of free accommodation given out and to celebrate this milestone event, we are running a fabulous competition to reward you for helping us to help you!
In the run up to reaching this milestone, the first five people to correctly guess the date that we reach the 2 Million will each win one of the following amazing prizes :
– A GoPro
– A Nespresso Coffee Machine
– A Kindle
– A Mecer Tablet
– A Sony H200 Camera
To enter, go have a look at our Free Accommodation Page and get a feel for how quickly the clockwatch number rises. When you have an idea, like our Facebook page (if you haven't already) and enter your guess on  the competition post on our Facebook wall
Good Luck!