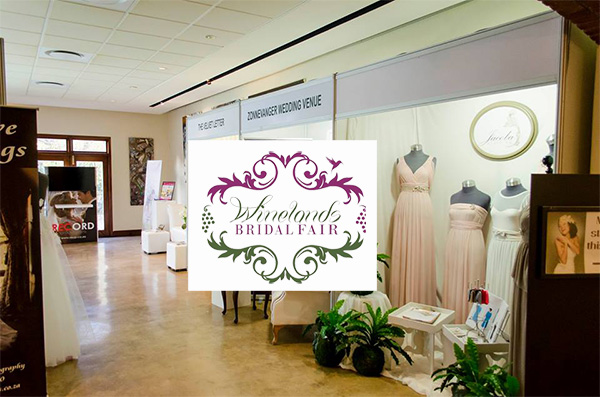 Some girls (and boys) dream about their wedding from a young age, to have a beautiful and memorable day with friends and family to celebrate the love you have with your partner, it truly is a magical experience. However, one does not realize all the stresses associated with this occasion, from finding the right dress, reliable caterers and a wedding cake to rival all others, to venues, bridesmaids, florists and always a touch of drama, the task can be quite a daunting one too. One might experience the age old "Monster Bride" when all these become too overwhelming to handle, but if you have exhausted those Bridal Magazines, and need new ideas to bring out the best in your wedding, the Winelands Bridal Fair is definitely the event for you.
The Winelands Bridal Fair, the Cape's most renowned bridal show, will be taking place this year from 15 – 16 July 2017 at the prestigious Nooitgedacht Estate, in Stellenbosch. One of the reasons patrons flock to this fair is definitely the venue's picturesque setting, in amongst the mountains and sprawling vineyards of Stellenbosch. The atmosphere is very relaxed, so you can leisurely stroll through the expo and view the amazing items and get new fresh ideas on display. You can even receive professional advice and assistance to turn your wedding (or any other large event such as your Birthday or corporate event) into a huge success. Various knowledgeable wedding gurus will all be in one location, covering all angles, such as services and products that you would need, to host the perfect wedding.
*Photo credit: The Newspaper
The Expo is packed with activities as well, such as their very popular fashion shows with designs by top South African designers, showcasing the latest in bridal Haute couture, and if you like what you see, you can buy the designs straight off the runway! In addition to the bridal displays and fashion show, visitors can enjoy live chamber music throughout the day, bringing more relaxation and peace to your experience.
*Tarentilos Self Catering and Wedding Venue
We hope to help you check off one thing on your list with venue options, establishments on the Sleeping-OUT website that advertise as wedding venues are De Haven Oost Wedding Venue, Murasie Guest Farm and Wedding Venue and Tarentilo's Self Catering and Wedding Venue, however there are many other establishments such as hotels, guest farms etc. that can accommodate your wedding too, so have a look through the Sleeping-OUT website and who knows? Your dream wedding could only be a click away!
To find out more about the Winelands Bridal Fair 2017, and where to get your tickets, CLICK HERE. We hope this helps to alleviate your stresses and plan your memorable day.