I announced I was going camping in the Cederberg to shocked exclamations and suspicious warnings. It was late June and the temperature in the city was pretty cold on most days. The Cederberg, a set of picturesque mountains 3 hours' drive from Cape Town, would be deathly cold they said – winter camping was a crazy idea.
I heeded their warnings but maintained my position. I was going despite the naysayers' prophecies of frozen extremities and an all-round unpleasant time. My friend was celebrating the start of a new decade and there was no way I was going to miss it. My armour, so to speak, was going to be preparation.
A few weeks later, a group of us bundled into a VW Polo and took off up the N7. A break in Citrusdal to pick up a sack of oranges and endless rounds of the 'camping memory game' later we turned onto the dusty farm road and bumped our way up to the campsite, where we found the party to be in full swing.
The following morning I was the first to emerge from my tent. The sun was just creeping over the top of the not-so- distant mountains and the air was bitingly cold. Within an hour there was a small huddle of people gripping onto their hot coffee mugs in the hopes of restoring sensation to their fingertips. The morning small talk inevitably revolved around how freezing everyone had felt during the night. I was mute on the subject, having not felt cold in the slightest.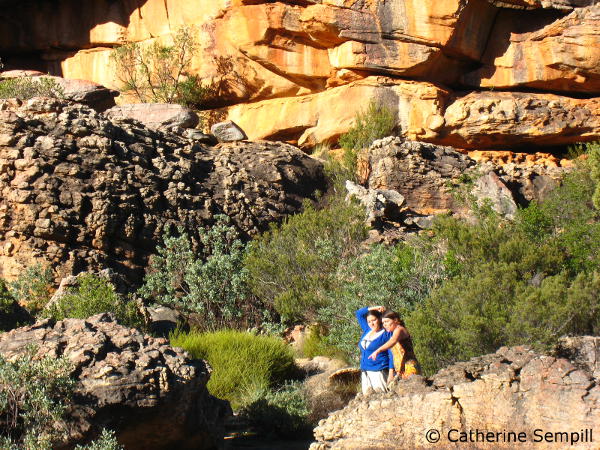 As the day stretched out ahead of us, the sun made its presence more convincing and we set about doing what people do when they catch a break from the city. Some people lazed around nursing hang overs, others went on epic hiking missions and the in-between-ers messed around with hoola hoops on the lawn, took a gentle walk to some ancient San rock paintings etched into the mountain side and even braved an icy dip under a waterfall.
By the time evening rolled around again and the temperature took another dive, the fire had been lit and a new round of partying had commenced. Soon though another morning came and the chatter once again turned to how sleepy everyone was from being kept awake by the cold. It was at this point when one astute observer noticed how content I appeared and begged me to divulge my secret.
What I revealed to her was disappointingly simple. The trick to staying warm while in a tent in the Cederberg in winter is layers (although timing is important too). Start adding them to your person before you get cold – an extra pair of socks, a beanie, and a scarf perhaps. 'Prevention is better than cure' is a very useful philosophy.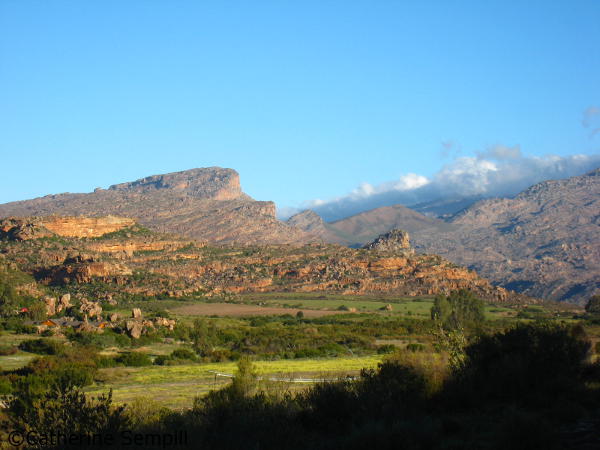 Another important pointer is to prepare your bed properly, bearing in mind that you should be insulated from all sides. For me that meant a sleeping mat covered with a thick blanket to sleep on and two sleeping bags and another blanket to sleep under.
The pre-bed routine is also important and for me consisted of preparing a hot water bottle, slowly sipping a cup of warm sherry and changing into two layers of fleece pyjamas.
This may seem like one heck of a palaver, but I was almost the only one on the trip to remain unscathed by the cold. With this in mind, I believe the effort and preparation paid off in dividends and I now consider myself an expert on surviving winter camping in the Cederberg. I believe that armed with the correct knowledge (and equipment), anyone can enjoy camping anywhere, any time of the year.
Don't forget to like our Facebook page and follow us on twitter @SleepingOUT_SA.