Whether you're a wine connoisseur or enjoy a smooth red or dry white on the odd occasion, you'll agree that nothing beats a glass(or bottle) of the good stuff after a long day. If you enjoy sipping and swirling on the finest varietals around, then you'd best not miss out on these prestigious wine-related events.
Stellenbosch Vineyards will be hosting their first Pizza and Wine Festival, where a selection of pedigree wines will be accompanied by innovative pizzas and fun-filled activities.
This one-of-a-kind festival allows attendees to sampling top-of-the-range wines from the Stellenbosch Vineyards Collection as well as innovative wine-based refreshments. Lovers of the Italian fare can look forward to a wide spectrum of cheesy pizza varietals – from gourmet and traditional to vegetarian and calzones. If you're on the Tim Noakes diet or have certain allergies, banting pizzas are also available so you won't be missing out!
Come enjoy some cheesy pizza and fine wine on 12-13 March 2016.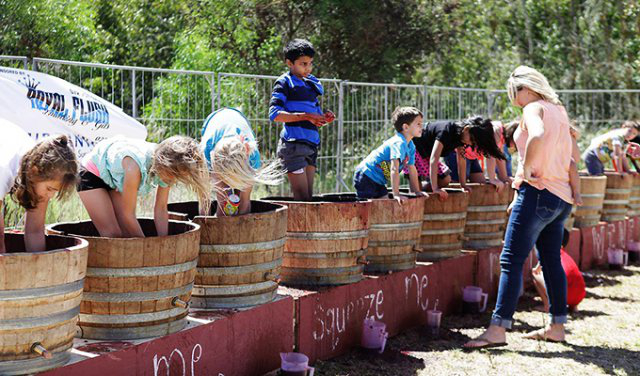 The Muratie Harvest Festival is not just about drinking endless varieties of wine but includes a barrel of fun and laughter with their traditional grape stomping.
If you've got nothing planned, head down to the Muratie Wine Estate in Stellenbosch on 12 March 2016.
Bring along your friends and family for a day of fun activities, live entertainment, gourmet food and of course, drinking the best Muratie varietals.
If you're looking to learn more about Muratie wines and how the estate came into being, attend a talk by Rijk Melk.
Following this interactive presentation, make your way to Muratie's towering oak trees and continue to drink on good wine, relax and listen to the sweet melodies by the local band, Kitchen Jammin'.
Considered one of the most upscale events in the Lowveld region, the FNB Mpumalanga Wine Show will be introduced to 60 of the best wine producers and 25o fine varietals of South African Wines.
The event is due to take place from 7-8 April at the Emnotweni Arena in Nelspruit.

The FNB Mpumalanga Wine Show is one of three regional shows, with other instalments happening later on in the year in Port Elizabeth, East London and the Free State. These wine shows were the brainchild of the local wine expert, Michael Fridjhon, who works in association with Outsorceress Marketing to make the shows what they are today.
This year, attendees at the FNB Mpumalanga Wine Show can look forward to tasting old favourites as well as some brand new varietals. What makes the event even more attractive is that all the wines which are sampled are budget-friendly, meaning you'll be able to purchase a whole lot of new stock for your home collection.
Apart from the wine-drinking, attendees can purchase a wide range of wares from the craft market – peruse through stalls offering up olives and olive-related products, wine accessories, stemware and artisanal products.
Bot River Barrels and Beards is a quirky weekend of bold wines, raging beards and hospitality in the friendly town of Bot River in the Overberg Region. Come join in on the fun from the 15-16 April 2016.
The town of Bot River, a haven for wine industry pioneers, is home to 13 wine farms who produce world-class wines. The secret behind their successes is due to their hands-on approach to wine making, where all their varietals are produced with the greatest of care.
The festival is divided up into three separate events which include a beer-drinking night with the producers at Hangklip Brewery, followed by the 'Best of Bot River Tasting' and culminates into the main wine tasting event. The main event allows enthusiasts to taste the freshly harvested wines from the 2016 collection.
Die Oesfees is considered one of the most prestigious and widely-known wine festivals in the Gauteng Province, where 60 of South Africa's top wineries will be exhibiting their 2016 collection as well as a range of bubbly and sparkling wines.
The Leriba Hotel and Spa in Johannesburg will be hosting this event from 30 April-2 May 2016.
The fruits of the vine can be complemented by juicy olives, cheeses and herb produce, and if you're looking to nibble on something a little more decadent, fresh oysters.
Attendees who are looking to line their stomachs with a hearty meal can do so at either of the onsite restaurants – Hemingways Eastery and Wine Cellar or the upscale Chapters Restaurant.
The Cape Town Good Food and Wine Show is eagerly anticipated by lovers of fine food, vino enthusiasts and all-round, good-life devotees.
The Good Food and Wine Show is due to return to the shore of Cape Town from 27-29 May 2016.

Show-goers will be introduced to top-notch South African and international chefs, restaurants and of course, an abundance of wine.
If you're looking to better your cooking skills or become more knowledgeable about the wines you drink, attend the cooking and wine demonstrations by celebrity chefs and boutique wineries.
The main attractions of the event, the food and wine tasting, will introduce attendees to gourmet creations and delicious vino.
If you're looking for a break from sampling, make your way toward the exhibition space to peruse and purchase a wide range of cooking gadgets and cooking gadgets, while learning a thing or two about the food we eat.
The word 'wine' might be in the name, but Wacky Wine Weekend is an event that is inclusive of the whole family. Not only will you indulge in your fair share of wine drinking, but you can also partake in a range of outdoor activities, live music and kid's entertainment.
Wacky Wine Weekend takes place in Robertson on the weekend of 2-5 June 2016.

This one-day only event, organised by the renowned Michael Fridjohn, gives aficionados the opportunity to sample South Africa's silver, gold and trophy medal winners.
The 15th edition of this much-anticipated event takes place on 3 June 2016 at the CTICC in Cape Town.
Every year, over 200 wine producers submit their most valued wines, with over 100o varietals being submitted for judging.
Winning varietals up for the tasting have been judged by a panel of expert international and local judges, so you can feel rest assured in knowing that you are tasting South Africa's highest quality, 'value for money' reds, whites and roses.
If you're looking for a nibble to accompany your wine tasting, there will be a selection of bite-sized snacks available at the refreshment table.
Attendees who like what the taste can purchase wines from the show from the online Macro facilities.
If you are a vino-enthusiast who is looking to learn more about fermented grapes, however, you have come to the right place. The primary goal of this wine dedicated weekend is based on the sentiment of sharing and acquiring greater insight and appreciation of the Robertson Wine Valley's wines.
As is always the case, the event adheres to a strict no drinking and driving policy with their 'Designated Driver System'. If you've opted for a wine-free weekend, you will be richly rewarded with a complimentary breakfast, coffee and cool drinks.
With the majority of festivals and events happening in the Western Cape, it's always a pleasure when these wines make their way to Gauteng. If you're a Vaali vino-lover then brace yourself for the Robertson Wine Valley Festival. This event makes its return to the prestigious Kievitz Kroon Estate in Johannesburg from 30-31 July 2016.
Attendees will be introduced to a wide spectrum of producers and wineries from in and around Robertson, all of whom will be showcasing their finest 2016 varietals.
In between sampling Robertson Valley varietals and learning a little bit about the wines from experts, take a look around the artisanal market for fresh, organic produce and homemade crafts. Here you'll be able to find a wide-range of wares – from smelly cheeses and freshly-brewed coffees to leather goods and homemade candles.