This year, on April 27 2016, celebrates the 22nd anniversary of  our country's first democratic, post-Apartheid election. Every year, we honour equality on Freedom Day, a day we enjoy alongside our fellow man, irrespective of race, creed, or sex.
If you're in Cape Town and looking for new ways to commemorate Freedom Day, take a look at our list of things you should take part in.
Braai and feast on Shisanyama at Mzoli's  – Gugulethu
The idea at Mzoli's, a Gugulethu butchery, is simple. Choose a meat for braaing and mingle with fellow diners while it cooks to perfection. Your meal will be brought to you in a  brightly coloured bowl, served with South African-style pap and a bean salad.
While waiting for your food order a drink from the cocktail bar, or a quartz from the next-door shebeen.

Get your glitz and glamour on at Pink Loerie – Knysna
Knysna's Pink Loerie is an event of parades, pageants, and pride. This year, attendees are encouraged to dress up according to the theme, 'Young and never been kissed'.
The five-day event is all about celebrating sexual diversity through a menagerie of shows, entertainment, street performances, and glamorous costumes.

Watch a soccer match at Athlone Stadium
Dust off those old vuvuzelas and head down to Cape Town's Athlone stadium for an exciting match of local football as Ajax take on the Mamelodi Sundowns!
Visit the Iziko Museums free of charge – Cape Town CBD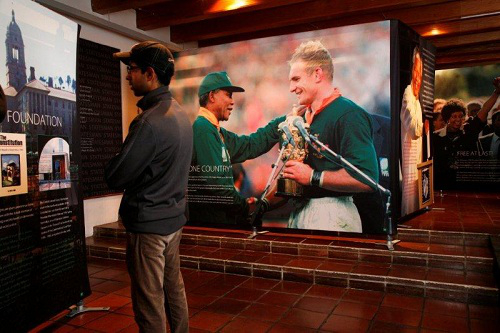 Learn about South Africa's deep-rooted history at the Iziko Galleries and Museums in the inner city of Cape Town.
Visit the Slave Lodge or the newly re-opened Constantia Manor if you're wanting to learn more South Africa's past, and our multi-cultural society.

Concert of Hope at the Artscape Theatre – Foreshore
The Concert of Hope forms part of the Suidoosterfees – a festival which celebrates Kaapse culture and heritage with a series of colourful concerts, comedy shows, much more.
The Concert of Hope aligns itself with the concept of freedom, with a performance by the music maestro, Jannine Neethling and her troupe of talented dancers and musicians, including the likes of Brandon October, Corlea Botha, and the Cape Town Opera Ensemble.

Drakenstein Correctional Centre was where the former South African president, Nelson Mandela spent his last few days is prison before release.
To commemorate Freedom Day and all that it stands for, visit the now declared South African Heritage Site. Outside the prison walls is a large statue of Nelson Mandela which pays tribute to the man who made a democratic South Africa possible.
Franschhoek is a cultural hub in its own right, so if you're looking to learn about its origin and culture. The Huguenot Museum teaches visitors about the French Huguenots who  settled in the Cape in the 1680's. The exhibits display the various tools the settlers used to make their wine, the clothes they wore, and the customs that they followed.

Take a boat ride to and historical tour of Robben Island
Robben Island needs no introduction, but for those of you who don't know the multi-layered history of this famous Cape Town landmark, it is where the former South African president was incarcerated for 18 years out of his 27-year prison sentence.
Tours begin at the Nelson Mandela Gateway at the V&A Waterfront with a multimedia exhibition while you wait for your ferry to depart. Departures to the island happen throughout the day, with the first tour starting at 9 am.
Upon your arrival, former political prisoners will give you a unique insight into the history of the island through their own personal accounts of their time spent on Robben Island. The tour includes visits to Nelson Mandela's cell and the limestone quarry where prisoners did hard labour.